Stones get political with new song "Doom and Gloom"
One of two new songs coming out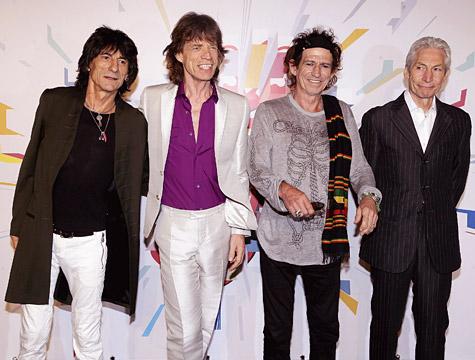 Maybe the
Rolling Stones
should stick with singles added on to greatest-hits collections. Last time they did it they added on the catchy rocker "Don't Stop." It didn't reach the level of awesome that, say, "Gimme Shelter" did but it sounded like a good '70s outtake. Their new compilation comes out next month but now they've released "Gloom and Doom," a very political, sparse, urgent rocker that addresses war (though again not as well as "Gimme Shelter") with
Mick Jagger
moaning "All I hear is gloom and doom." Check it out below. There's one more new song coming with the new package; let's hope it has as much spark as this one.
"Ladies and gentlemen, the Rolling Stones";  English blues-rock, and an American Icon.  Representing power and determination amid applause and conflict, death and restructure.  Powerful lyrical collaboration; contemporary attraction amid contemporary changes.  And you rock!!  Rock on, boys; it's your thing. 
Aloha Love The Stones Always,
There new songs are so great, why no one gets it. You are to far above everyone's thought...So glad you have put out two knew songs, & care enough to write what is going on I
Guess, no one wants to help & change the times to get better. Seen you back in 1974 Tour
Of The America's. You were Great then I know you will be great in London. You did come to the
Big Island of Hawaii for a Coke Convention, a few years ago. Did not get to see you then, heard you were
Real Great !!! Still in Hawaii & will miss the Great Concerts you will do in London-WOW 50 years, 
together, that is so Great.I'm 60 yrs. w/husband 60 yrs. have Loved You Forever.
Are you sure you want to delete this comment?
live local music on
Enter your ZIP code to see concerts happening in your area.
Data provided by Zvents
follow msn music