Janis, we hardly knew ye
How well do you know your Janis Joplin facts?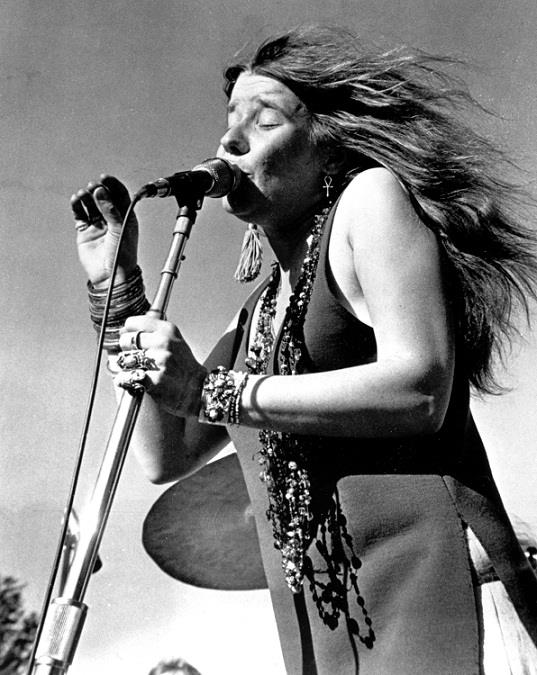 Ah, what if? It's a game that's ultimately pointless but you wonder nonetheless.
Janis Joplin
would be 70 on Saturday had she not died of a drug overdose at 27. Had that not happened where would she be today? Retired from music, like contemporary
Grace Slick
? Still playing arenas in Europe, like
Joe Cocker
? Making the occasional breathtaking album like
Bob Dylan
does?
It's a mystery, and all we can do is examine what we do know about her and the music she left behind. In her memory, take this quiz and see how much you know or never knew about Joplin.
1.Name the song composed by legendary blues singer Big Mama Thornton, which became Janis Joplin's first signature song:
  A. Hound Dog
  B. Black Mountain Blues
  C. Turtle Blues
  D. Ball And Chain
2. What was the name of the hit single from "Cheap Thrills"?
  A. Piece Of My Heart
  B. Summertime
  C. Combination Of The Two
  D. Ball And Chain
3. Name the singer that a hit recording of "Piece Of My Heart" before Janis recorded it with Big Brother & The Holding Company"?
  A. Etta James
  B. Dusty Springfield
  C. Tina Turner
  D. Erma Franklin
4. In 1970, Janis purchased a tombstone for a blues singer.  Name this singer.
  A. Robert Johnson
  B. Ma Rainey
  C. Bessie Smith
  D. Leadbelly
5. What was the name of the group that Janis performed with at Woodstock?
  A:  The Waller Creek Boys
  B.  Big Brother & The Holding Company
  C.  The Kozmic Blues Band
  D.  Full Tilt Boogie Band
6. There was only one song in the movie "The Rose" that was in Janis' repertoire. What was it?
  A. When A Man Loves A Woman
  B.  Stay With Me.
  C.  Fire Down Below
  D. Let Me Call You Sweetheart
7. What was the name of the first single released in 1971 after Janis death?
  A. Mercedes Benz
  B. Cry Baby
  C. Get It While You Can
  D. Me And Bobby McGee
8. What was the name of the San Francisco group that Janis Joplin joined in 1966 when she moved to California?
  A. 13th Floor Elevators
  B. Big Brother And The Holding Company
  C. The Grateful Dead
  D. Jefferson Airplane
9. Which band member played in only one of Janis Joplin's professional bands?
  A. John Till
  B. Sam Andrew
  C. Peter Albin
  D. Brad Campbell
10. In what part of Texas was Janis born?
  A. Austin
  B. Port Arthur
  C. Houston
  D. Dallas
The answers are below this video. But first enjoy watching Janis make fun of Dick Cavett's shoes and charm him at the same time.

Answers: 1–D. 2-A. 3-D. 4-C. 5-C. 6-B.7-D. 8-B. 9-C. 10-B.
1. 

Are you sure you want to delete this comment?
live local music on
Enter your ZIP code to see concerts happening in your area.
Data provided by Zvents
follow msn music