Stones stateside: Rolling with time's changes
The iconic rockers' second U.S. anniversary gig focuses on essence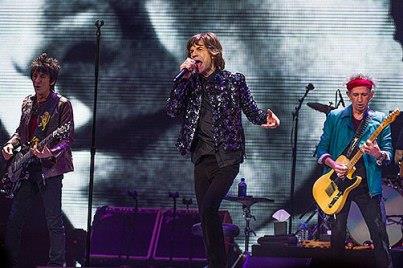 By Alan Light
Special to MSN Music
Before Thursday night's concert by
the Rolling Stones
at the Prudential Center in Newark, New Jersey — the band's second U.S. appearance on its "50 and Counting" mini-tour, following two shows in London — there was widespread speculation about possible guest stars: Would
Eric Clapton
or
Paul McCartney
or any of the other headliners at the previous night's "12-12-12" benefit show stop by? Would the bonus attractions already announced for Saturday night's pay-per-view special (
Bruce Springsteen
,
Lady Gaga
,
the Black Keys
), broadcasting live from this same venue, want to try a dress rehearsal? In the end, though, this was the night that maintained the tightest focus on the Stones themselves, resulting in what seemed to be the band's loosest playing of this run.
Opening with 1965's "Get Off Of My Cloud," with
Mick Jagger
resplendent in a gray-and-white checked blazer and fedora, the set's 22 songs mostly stayed close to the structure of the three prior shows. The first section featured some of the Stones's earliest hits—"The Last Time," "Paint It, Black" — before settling into an array of the late '60s/early '70s classics that constitute the peak of their work.
One highlight was a blistering version of "Gimme Shelter"; where the last three stops featured
Mary J. Blige
(twice) and
Florence Welch
singing the female vocal originally recorded by Merry Clayton, this time longtime back-up vocalist Lisa Fischer took the part. The entire band benefited from not having the distraction of an unfamiliar voice on stage (and the advantage of someone who actually knows the song), and all locked into a glorious, soaring groove.
MSN Music: Stones snag Gaga, Springsteen & the Black Keys for final U.S. show of the year
That song was followed by the night's only outside visitor,
John Mayer
. "You think we're gonna do a blues, right?," Jagger teased the audience. "Well, we're not." Instead, they launched into "Respectable" from the "Some Girls" album, one of the band's most primitive garage-rockers. Mayer ripped a high-octane solo, which was dazzling but almost too good for the song's simplicity.
Keith Richards
responded with a chugging
Chuck Berry
-style lick, and he killed Mayer in two chords.
It was a high point for the Stone who is most showing his age. While Richards' guitar work is stronger than the shocking state it had reached by the end of the band's last tour, you can feel him having to struggle to keep up. He sometimes muffed even the most elemental intros, and where he once was always the engine driving the band — locking eyes with Charlie Watts to direct the tempo, pushing Jagger and the other musicians with fills that propelled the songs — now he mostly stays relatively still and keeps to himself, contributing but not directing.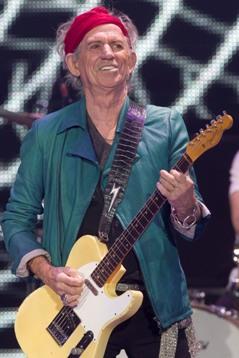 As a result, Ronnie Wood is more important to the Stones than he ever has been. The guy is never going to be the world's greatest guitar player, but his versatility  his ability to shift from rhythm to lead, play slide or even lap steel — picks up the slack now left by Richards' limitations. Keith's vocal spotlight, back-to-back performances of "Before They Make Me Run" and "Happy" with impressively strong singing, both turned into showcases for Wood's fretwork.
MSN Music: 12-12-12 concert features McCartney, Clapton, a brief set by the Stones and more

One song on which Richards shined was the night's most surprising addition, a cover of
Chuck Berry
's "Around and Around" that was selected in a "fan request" vote. Though Jagger chuckled when he read the choice — "That's an old one! Do you even remember that one?" — he sang and danced with a fever that was still recognizable from the group's first days as a blues and R&B cover band, and Richards responded with evidence that he's still Berry's greatest acolyte. "That was good fun," Jagger said at the song's end.
But the undeniable climax of the show was an epic version of "Midnight Rambler," featuring one-time Rolling Stone
Mick Taylor
in his first appearance with the band on U.S. soil since 1981. While Taylor's waistline was a bit shocking next to the rail-thin Jagger, Richards, and Wood, and though he tried to pack too many ideas into his one number, his presence elevated the performance of the entire band on their incomparable "blues opera."
Jagger's vocal delivered some of the genuine menace that once defined his style, and the band played with a force that illustrated the revolutionary way in which they actually reshaped the blues into an entirely new and distinctive music. For perhaps the only time all night, they weren't just reminding us of the Rolling Stones magic, they were truly creating it. "Rambler" also showed what the band was capable of when they had a true lead guitarist.
Gallery: The Rolling Stones through the years 
The set closed with a "Sympathy for the Devil" that teetered on the edge of chaos. While most singers lose their upper register as they get older, Jagger seems to have lost some of his low notes, and felt like he was struggling to find the right key. Richards' spiky guitar solos never quite took shape, and the song cut off abruptly. But a triumphant three-song encore included a slashing, stunning "Jumpin' Jack Flash"—one of those great Stones performances when the band grabs hold of a groove and just doesn't want to let go, growing more ferocious until you hope they'll keep playing it for hours. At 69, Jagger is nothing short of freakish, gathering strength as the show stretched on past the two-hour mark (and donning and stripping off an endless parade of sequined jackets of various color and length).
How long can the Rolling Stones go on? What is still left to conquer, as their unprecedented career as a band enters its sixth decade? Like the song says, could this be the last time? There's no way to know, since there's no one who has ever done what these guys have done. For now, all we can do is tune in tomorrow.
Get Off of My Cloud
The Last Time
It's Only Rock n Roll (But I Like It)
Paint it Black
Gimme Shelter
Respectable (with John Mayer)
Wild Horses
Around and Around (Chuck Berry Cover)
Doom and Gloom
One More Shot
Miss You
Honky Tonk Women
Before They Make Me Run
Happy
Midnight Rambler
Start Me Up
Tumbling Dice
Brown Sugar
Sympathy for the Devil


Encore
You Can't Always Get What You Want
Jumpin' Jack Flash
(I Can't Get No) Satisfaction
Alan Light is the co-author of Gregg Allman's best-selling memoir "My Cross to Bear." A regular contributor to MSN Music, he is the former editor-in-chief of Vibe and SPIN magazines. He is the director of programming for the public television concert series "Live From the Artists Den," and contributes frequently to The New York Times and Rolling Stone. Alan is a two-time winner of ASCAP's Deems Taylor Award for excellence in music writing.

* AP photos
live local music on
Enter your ZIP code to see concerts happening in your area.
Data provided by Zvents
follow msn music