World Party's eye on world domination
A five-disc box set finds Karl Wallinger in top form and ready for the road
Five albums in 25 years.
That, in a nutshell, is a driving force for World Party's Karl Wallinger to dig through his archives and give fans a peek at the stuff has held back. And now he's not exactly sure why he ever held it back.
Since 1986 Wallinger and various players have struck out under the World Party banner, making smart, sometimes stinging pop songs such as "Ship of Fools," "Put the Message in the Box" and "Way Down Now." The subject matter often was bleak as in "Ship of Fools" where mankind was following its worst instincts toward destruction; the flip-side was songs like "Take It Up," a soaring hymn to the human spirit.
His work has flown both above and below the radar, but all the while Wallinger has been a sharp-eyed commentator on humans' best intentions and worst tendencies – what we aspire to be and how we so often fall short. It's all couched in strong melodies and vocal arrangements that can be anguished or joyous. A new set of songs fills out the previous portraits of humankind while exploring new tangents.
"Arkeology," a gorgeous five-CD "box set" (more on that in a minute) is in stores and online Tuesday. It features a mother lode of new songs, old songs, live songs, demos, alternate takes, lost masterpieces and oddities that Wallinger has mostly kept in his vaults. The hardcore might have songs like "Kuwait City" and "Trouble Down Here" from hidden tracks and B-sides, and the live "Like a Rolling Stone" from a 1993 radio broadcast, but the vast majority is totally new stuff. And even all the rarities didn't fit – the CD-single live pairing of "Is It Too Late/Radio Days" didn't make the cut, nor did his version of the Beatles' "Martha My Dear" released on a tribute album. Nor did his hip-hop take on "The Long and Winding Road," given away years ago through his website.
And "five albums in 25 years" isn't technically correct. The last full album of new material, "Dumbing Up," came out in 2000, so it's actually a dozen years of studio silence that Wallinger is breaking now. Recovery from a life-threatening brain aneurysm in 2001 slowed things down, but didn't lead to the outpouring of music now.
"It didn't inspire it. It just thought it'd be a nice thing to do. And over 25 years I've put out just five albums. Oops. Sorry!" Wallinger said with a laugh during a long Skype interview from his London home. "All I've tried to do is make it real. The whole thing's been done here in my living room. We didn't get the pros from Dover to work on it. There wasn't any marketing research. It's the old-fashioned way – someone is expressing themselves. Hopefully it's just a nice thing. It's just what it is."
And "what it is" is five discs, 70 songs, put in a diary/scrapbook selling for a reasonable $35.
"They were saying 'box set.' I really hate them. Where the hell do you put them to start with? I wanted something you just dismembered. Something you wrote your diaries in. The music, you put it in your iTunes and put the CDs in a drawer," Wallinger said.
Here he presents exclusive full-length previews of two of the songs – a live version of "Way Down Now" from London 1991, and the box set's closer, "Change the World," a song that makes the mindless self-destruction of "Ship of Fools" seem cheery. Fans will be glad to know that "Arkeology" is World Party's planned return to wide-scale touring, including the new songs. Continue reading for the entire interview.

MSN: The diary calendar in your box set goes to 2015, so you're more optimistic than the Mayans were. At least a bit.

Wallinger: "I think it'll be going much further than that, but how many us there will be, I don't know. Maybe I've made this calendar so people can stay in touch after the balloon goes up or whatever."
You said you wanted to do something other than a straight digital release, but this diary/journal packaging is gorgeous.
"I thought it would be amazing. If you like it, great. I didn't wanna just put pictures of me in it. There's a few in there but I tried to make it just something that was interesting that you could do something with. I'm just fed up with the plastic box. It's a horrible thing. Why hasn't anyone done this before with a useful thing?"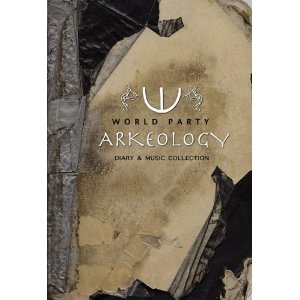 How did you come up with these 70 tracks?
"Mike Worthington, our label manager, ended up going home with a disc with 5 ½ days worth of music on it. I just can't see the woods for the trees. He came back with four CDs worth which stayed unchanged. I had a bunch of DATs and I put together another CD's worth. … we had a good laugh making it. He said 'Four CDs.' I said 'FIVE!'"
These range from completed songs to rough demos, from the '80s to last year. Some have complete details, but one song has only the vague note "1994, I think." What are your archives like?
"There are some things there I really don't know where they come from. It's a long time to keep absolute records, know what I mean?"
There are more Beatles covers here including "Dear Prudence" and "Fixing a Hole." You said years ago you did these things to try to divine the inspiration behind them. Then there's "I'm Only Dozing," which seems to have every element of every Beatles song rolled into 4:26.
"It was a whole thing about people saying how '60s-oriented I was. So I thought I'd really do the '60s thing and do a pastiche of the pastiches. I never felt like I did the '60s thing. I've never worn the clothes, I haven't had a pair of flares on since 1974. There was something real they were doing that I wanted to carry on with, that mindset. My mindset has grown over the years. I'm not limited by the '60s. That's just the roots of it. I've grown with the world. The Beatles covers, it was just a way of finding out about the thing that was the inspiration … it's a great way of learning studio craft as well, a good way to learn to use the gear. It's a known entity. You know what the end result should be. It's a good way of being vibe-y and saying hey, I can do that. I know they were about 10 when they did it and I was about 60 when I do it. That's the embarrassing thing (laughs)."
Artists like you, Flaming Lips, Beck and others use the past as a foundation and build on it with new twists rather than wallow in it.
"That's the idea to me. It was a great era of creativity.  The thing I like about it most was…they were amateurs who loved it. Because it wasn't like the professional thing of the late '50s, the boy singers who were picked and groomed. It seemed like the Beatle next door, the guy next door, playing this music. They didn't know it was going to be a big success. It took off so much that they did become professional. But initially it was born out of amateurism, born out of a love of R&B music, white rock 'n' roll, black blues and country. They were post-war, full employment, confident as (expletive). Let's have a good time now after the grayness of war. They were on the upward trajectory of it, and we're kind of on the other side now. A lot of the dreams, a lot of the things that were put into place have just been made to bollocks because there are so many (expletive) people in the world. It's unimaginable what's happened. But we gotta deal with it. There are some elements of the old style of music that bring you feelings of hope and laughter. I think we need to laugh a lot more than we do."
There are songs here that are absolute World Party classics – "Break Me Again," "Lost in Infinity" – that I can't imagine why they weren't out till now.
"They're just moments from the studio. Some things you even forget about. You have a certain few that are favorites and they came through the process and others don't make it. Sometimes it's tempos in albums; you want to make it a very satisfying set. You might find this one wins this week, and that's the week you chose the running order. Nothing's done on purpose in life."
"Everybody's Falling in Love" is a new song. Are you constantly working on music on a daily basis?
"My head is. I'm not constantly playing instruments. But something else, like a subconscious thing, is noticing things and dragging them into the brain and stuffing it away somewhere. Some dialog that you don't even know you're having. … I'm recording most things just with my voice on my iPhone. I do drums and bass at the same time, put harmonies on. I'll just do it in my hand as I'm walking along. I'll then transfer it to a Mac and get serious with it if I want. I'm just taking notes."
So why now with this?
"I'm looking forward to playing live. That's what I really want to do – get on the road for a year, just take off. We've got 70 songs to play now. I want to get out there and do some gigs…. Last time we'd been around we just did the music. I'd like to do a bit more in the production stakes this time. We're going to do something live in London, the first time in 12 years, 13 years."
Your live shows have run the gamut over the years. You illustrate that here with "Ship of Fools" – one a version with full horns, the other more stripped-down and bluesy.
"I like doing different versions of things. I get bored if it's same all the time. It was great going around in 2006 and 2010 with different bunches of people. We were a three-piece for a long time, then a five-piece, then a seven-piece. The way you do things is always different. …I'm a big fan of Dylan's treatment of his songs – not the mumbling necessarily but the way he's treated the songs through the ages. 'Private Revolution' we've almost done as a version of 'Rain,' not  like the funky track it is on the album. When you've been doing something for a while you want to do a different version of it."
There's a diary entry that accompanies "Change the World," the final track on the album.
"That's my school report…1974. 'Not the most stable and reliable person on earth, he has occasionally made useful contributions to our discussions, but has also too often played to the crowd.' It was my idea this was the last thing in the book, in case you thought I was taking myself too seriously (laughs)."
But it accompanies "Change the World," a cynical song of utter defeat, of being almost ashamed of your earlier idealism.
"It is a downer, isn't it? I really thought that things were gonna go better in a linear direction. I didn't realize it was just about cyclical changes and violence and peace, good bad, left right … It's the truth. It's destruction and creation, good and bad, yes and no. 'Change the World?' 'I should have known better than to think you change the world.' I was really thinking it was going to be a consistently better place with each election. We'd be more fair, get more achievements, more education. I don't know what people are doing; I really don't know. It's unbelievable what's going on… people are career politicians. They become researchers then advisers then given a place in the party. They've never done anything else. They're the ones who get chosen to represent us and have nothing to do with us. They're just this strange cliquey breed of strange politicians. And that's why I don't think we've been able to change the world that much."
live local music on
Enter your ZIP code to see concerts happening in your area.
Data provided by Zvents
follow msn music