Happy belated birthday Maurice White!
We're very glad you're not dead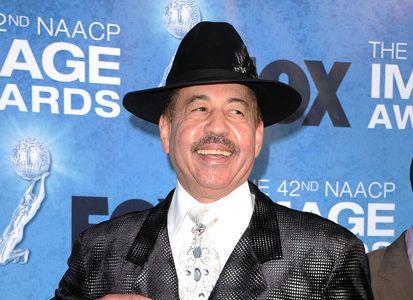 The world didn't end today, though a rumor quickly spread that it had for
Earth, Wind & Fire
founder
Maurice White
. No, he didn't go off to that great Boogie Wonderland in the sky. While White has battled Parkinson's Disease for decades and hasn't performed regularly with EWF since the '90s he's certainly not infirm, as the photo above indicates.
A tribute to White from Steve Harvey aired today to commemorate White's 71th birthday this past Wednesday. It was apparently misinterpreted as an obituary by Q-Tip, who promptly tweeted out his condolences. That went viral to the point where EWF had to issue a statement that it wasn't true – then asked fans to spread that around through social media as well.
White was co-writer of most of EWF's greatest hits, including "Shining Star," "September" and "Sing a Song." According to the band – still made up of original members Philip Bailey, Verdine White and Ralph Johnson – White plays an active role behind the scenes with the band these days, even if he doesn't perform with them.
Another great reminder to not believe everything you hear or read. A quote attributed to
Mark Twain
goes "A lie can travel halfway around the world while the truth is putting on its shoes." And Twain lived in the era of the telegraph and Pony Express, not Twitter.
Are you sure you want to delete this comment?
live local music on
Enter your ZIP code to see concerts happening in your area.
Data provided by Zvents
follow msn music