Lenny WHO?
Kravitz casting rumors swirl around Marvin Gaye film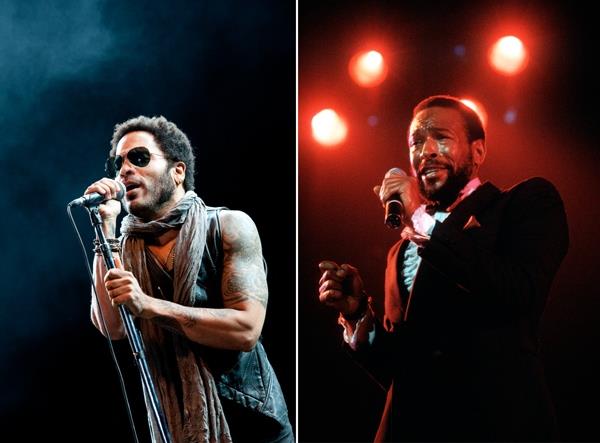 As reported
here
and
here
, and basically everywhere else, Lenny Kravitz may play Marvin Gaye in a biopic that may be directed by former Sex Pistols associate Julien Temple. Given the recent trainwreck of Lindsey Lohan being cast as Elizabeth Taylor, it's not as though there isn't precedent for medium-to-good talents being called upon to play titans—and, given Jamie Foxx's Oscar-winning impersonation of Ray Charles a few years back, it's not like such choices can't yield results. HOWEVER, though Kravitz's music will almost surely offend Gaye die-hards, it's worth taking a look back at his 20-plus year career and considering just how much he has basically always been an actor first, playing shifting roles as various kinds of
musician—reconstruct​ed
bohemian hippie, soul revivalist, fashion-forward acid rocker, et al. This might be the part he's been waiting for his whole life.
And speaking of musicians and actors who pretend to be them, Stereogum reported that Bradford Cox, the inspired frontman of Deerhunter and Atlas Sound, will play the AIDS-stricken gay lover of a drug smuggling character played by Jared Leto, a pretty-face actor who continues to insist on fronting the band Thirty Seconds from Mars, in a film called The Dallas Buyers Club, also starring Jennifer Garner, Griffin Dunne, and Matthew McConaughey, due next year. If you wonder about Cox's performer chops, consider this video clip of a show in Minneapolis earlier this year, during which he responds to a heckler's ironical request for "My Sharona" by playing the song with aggressive, room-clearing hostility, FOR AN HOUR. (And it's still better than 30 Seconds to Mars.)
live local music on
Enter your ZIP code to see concerts happening in your area.
Data provided by Zvents
follow msn music