Chaka Khan is too overcome to pay tribute to her former backing singer Whitney Houston
Reports vary as to whether she signed on or not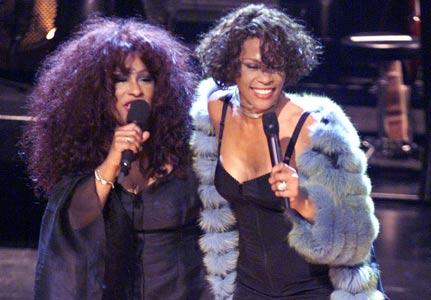 Was she or wasn't she? According to media reports,
Chaka Khan
was tapped to be part of a tribute to
Whitney Houston
at the Grammys tonight. According to CNN, Khan said she couldn't do it – Houston was once one of her backing singers.
But press reports went ahead saying she'd be there, until Khan issued a statement shortly before the Grammys.
"As I grieve the loss of my friend and 'little sister,' I don't feel it appropriate to perform at this time," Khan said on Twitter. "Continue to pray for the family."
Here are Khan and Houston doing "Tell Me Something Good" at the L.A. Forum not so long ago.
It's a relief to see an artist decide to not get a career boost off of a friend who died.
Nice job, Chaka Khan.
live local music on
Enter your ZIP code to see concerts happening in your area.
Data provided by Zvents
follow msn music