First 'All My Children' trailer drops
Countdown to the online soap opera reboots heats up
The Online Network has released a hot new "All My Children" season preview! With the premiere of the soap opera online reboots less than two weeks away, we've already seen the 
first online teasers
, along with a "One Life to Live" sneak peek and more.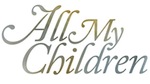 "All My Children" and "One Life to Live" are set to premiere Monday, April 29 on Hulu, Hulu Plus and iTunes, which means the countdown is in full swing. Cast interviews are popping up around the net, along with
casting scoop
 and fresh content on the "All My Children" 
Hulu
 and 
iTunes
 homes and "One Life to Live" 
Hulu
 and 
iTunes
 homes.
In addition, "One Life to Live" is broadcasting a live Google+ hangout with Melissa Archer (Natalie) on Tuesday, April 16 at 6 p.m. PT/ 9 p.m. ET. Fans can tweet questions before the event to 
@OneLifeToLive
 and then tune in 
here
. 
In other reboot news, Canada won't be left out come premiere week. Both shows are set to air weekdays on FX Canada. 
Stay tuned for more premiere hype. 
"All My Children" and "One Life to Live" premiere 12 p.m. ET/9 a.m ET Monday, April 29, on Hulu, Hulu Plus and iTunes.

ABC is going to have to deal with it, they should have by now realized that by canceling AMC they were making one of THE biggest mistakes of television history! You just cannot mess with the ability to have ratings for over 40 years with the same, and then some, constant loving fans. How many TV shows can say that?

SO excited for these shows to come back - and a huge THANK YOU to FX Canada for airing them! I do have to say, the OLTL promo was probably better because it started by focusing on the vets and then wove in the newbies. But whatever; we'll take 'em any way we can get 'em!
For the complainers - you don't need Erica. If you're only watching for one character (who, ludicrously, has apparently never hit menopause), then you're not a fan anyway.
Are you sure you want to delete this comment?