Tell-all: Ann Curry bullied by 'Today' staffers
Upcoming book uncovers former anchor's 'torture' amid boys' club atmosphere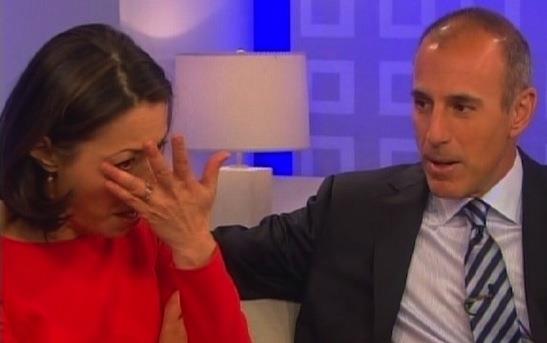 The backlash from Ann Curry's now infamous "Today" ousting just won't die down. Brian Stelter's upcoming book, "Top of the Morning: Inside the Cutthroat World of Morning TV," reveals dirty dealings at "Today" and the torture of Curry's final months as co-anchor.
Bing: More about "Today" | Ann Curry
An excerpt from Stelter's upcoming investigative tell-all recounts a boys' club atmosphere at "Today," co-anchor Matt Lauer's "growing indifference" to Curry and a "general meanness on set" during Curry's time as co-anchor. That meanness apparently included executive producer Jim Bell making a blooper reel of her biggest on-air gaffs, while the control room made Curry and her wardrobe the ongoing butt of their jokes. The abuse also escalated beyond production to include the location of her office and insults at the security desk.
"Many executives at the network never grasped how profoundly hurt and humiliated Curry remained - not just by her televised dismissal but by all the backstage machinations that led to that fateful morning," Stelter wrote. "Curry felt that the boys' club atmosphere behind the scenes at 'Today' undermined her from the start, and she told friends that her final months were a form of professional torture."
Plus: Left-field reality stars | 10 new gigs for Jay Leno | Reality shows that sound fake 
The story goes on to discusses the importance of staying on top in daytime and the tricks the show used to pay off guests, tweak Nielsen ratings, take down "GMA," hide the cutthroat fight for airtime and generally stay in the game.
It posits that Curry was infamously ambitious before she arrived at "Today" and was angling for the co-host spot years before Katie Couric's contract was up, but no one thought it would be a good fit. Couric allegedly even called her "fake" and there was talk of moving Curry to "Dateline NBC." Former showrunner Jeff Zucker kept her in the family, but turned Meredith Vieira into the next co-anchor. Curry was to be next in line and though Bell and others didn't approve, she ascended to the seat in 2012. 
What do you think of all this Ann Curry-"Today" happenings? Tell us at MSN TV on Facebook and Twitter.
When ratings started to slump, however, Bell again fixated on Curry. One of his buddies apparently warned him that firing Curry after six months would amount to "killing Bambi," but after a tussle with president of NBC News Steve Capus, "Operation Bambi" was a go. First Lauer would sign a new contract; then Curry was to be pushed out and replaced by Savannah Guthrie.

Needless to say, Bell denied much of this, just as Lauer denied telling a production assistant, "I can't believe I am sitting next to this woman." The excerpt adds Lauer signed his new $25 million deal with the show after Steve Burke told him, "We need to sign you so we can do Ann."
Curry wasn't gelling with Lauer or the morning show's vibe and preferred real news to bubbly tabloid segments. Bell tried to use that, along with a nice bottle of wine, to make her demotion after nine months more attractive. While Bell wanted her out, Capus was telling her not to worry. The mixed messages reflected the infighting going on at the top, but Curry was on board for her transition to roving-correspondent​ - until The New York Times broke the story. Curry felt sidelined, hurt and furious.
The excerpt goes on to discuss the clashes that occurred after Curry's departure and efforts to determine how "Today" had fallen from its top slot. Staffers told the consulting firm hired to play clean up "Our sense of family is broken" and talked of Matt taking the blame for Curry's exit, while Savannah was being cast as "the younger replacement wife." But the bigger issue seemed to be that the show hadn't changed its style or format in decades and it just didn't look like the team was having as much fun as "GMA." 
Lauer still hasn't recovered from being cast as the man to blame. Word is he won't be renewing his contract again, no matter how things proceed.  
"Two more years, and then he's mine," Lauer's wife told Stelter a few weeks after he signed his contract.
While Lauer and "Today" have taken a beating, however, a year after the ousting Curry was "lying low at her home in New Canaan, Conn." She was still on the morning show wakeup schedule and Stetler writes that "some mornings, she cried as she read e-mail and Twitter messages from fans."
The excerpt concludes by suggesting that with behind the scenes modernization and changes at "Today," Lauer could conceivably bring the show back to number one. 
"It'll be O. K.," Meredith Vieira apparently told him after an April dinner date, believing the bad press and ill will will subside. 
With more Curry drama afoot, however, some find that hard to imagine.
"Today" airs weekday mornings on NBC.