Bill Cosby explains Fat Albert's 'Hey, Hey, Hey'
Popular cartoon catchphrase inspired by legendary Motown group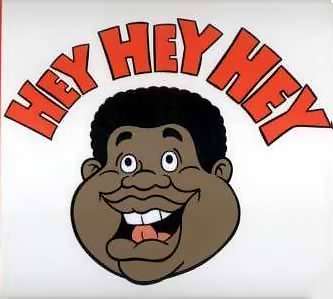 Saturday mornings from 1972-85 were more fun because of a rotund, good-natured guy named Fat Albert and his ragtag gang of pals.
In case you weren't around to appreciate it, the cartoon was called "Fat Albert and the Cosby Kids" and it was based on the childhood friends of comedic mastermind Bill Cosby, who created and hosted the show. In time for Shout! Factory's June 25 box set release, Cosby, 75, did a special feature interview where he breaks down Fat Albert as the program's central figure. Fat Albert eventually became a hero for countless child viewers, including Cosby's late son, Ennis, he said.
Bing: More on 'Fat Albert and the Cosby Kids' | Bill Cosby
Cosby, who provided the voice for Fat Albert, said he wanted the character to exhibit a range of emotional inflections not heard on most animated offerings of that era. He also wanted the red-sweater wearing star to have a catchphrase viewers would identify with and enjoy. And "Hey, Hey, Hey" was born.
Plus: 'True Blood' villains  | Miss USA 2013 contestants | TV shows based on books 
"'Hey, Hey, Hey' is a signal," Cosby said. "It's a charge that he's coming. And that came from his love for The Temptations. (In) some of their songs, the background singers (would sing) 'hey, hey, hey,' that kind of thing. And so whenever Fat Albert would say that, it would come from his group, The Temps. I don't know if Fat Albert wanted to be a background singer or be one of The Temps." 
Want more TV? Find MSN TV on Facebook and Twitter
Cosby also said he wanted to challenge the way overweight people were perceived. "In my time, fat people were stereotyped as clumsy, to laugh at, not particularly intelligent and (having) low self-esteem," Cosby said. "I wanted to change that and make Fat Albert the large fellow that everybody started liking because he was the biggest guy in the football game ... to take a person like that and make him an intelligent, compassionate and wise leader."
"Fat Albert and the Cosby Kids: The Complete Series" ($119.99, Shout! Factory) hits store shelves Tuesday, June 25.