Conan O'Brien stages a 'Simpsons' reunion
Host interviews his former co-workers for web show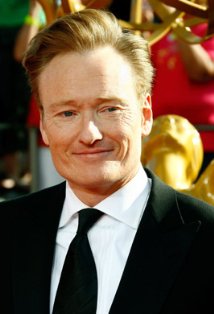 Before Conan O'Brien became a late-night talk show star, he was a writer for "The Simpsons" (1991 to 1993).
O'Brien's work on the animated hit is a part of his comedy pedigree and something he holds dear. For proof, fans need only watch the latest installment of his web show, "Serious Jibber Jabber," in which O'Brien chats up Al Jean, one of the writers and producers behind "The Simpsons." Joining O'Brien and Jean for the discussion are writers/producers Mike Reiss, Jeff Martin and Jay Kogen.
Bing: More on 'The Simpsons' | Conan O'Brien | Al Jean | Mike Reiss | Jeff Martin  | Jay Kogen
The five talk about everything from the show's humble beginnings on "The Tracey Ullman Show" to how Ullman tried to kill "The Simpsons" initially. She later sued for a cut of the profits.
Plus: 10 new gigs for Jay Leno | Reality shows that sound fake | Memorable TV introductions
"A lot of people said it was going to be a disaster," said Kogen of "The Simpsons" during the 80-minute web interview. Today, "The Simpsons" is the longest running show on TV and has been on the air for 24 seasons. Here's the interview in its entirety: 
"The Simpsons" airs Sundays at 8 p.m. ET/PT on FOX.
Are you sure you want to delete this comment?