Daytime Emmy Q&A: Freddie Smith
Younger Actor nominee talks awards show and 'Days of Our Lives'
With the 40th Annual Daytime Emmys set for Sunday, June 16, MSN TV caught up with nominee Freddie Smith (Sonny, "Days of Our Lives"). The Outstanding Younger Actor contender revealed what part of Emmy night has him nervous, opened about being nominated alongside his onscreen love Chandler Massey (Will) and teased what's ahead for Sonny, Will, Gabi and Baby Arianna.
Bing: More about "Days of Our Lives" | Freddie Smith  
Smith made daytime news two years ago when he was tapped to play Salem's first gay contract character, Sonny Kiriakis. Sonny has gone on to face a few bigots, help Will come out of the closet and find love in Salem. These days, Sonny and Will are just another "Days of Our Lives" couple, grappling with everyday soap drama like flings, babies out of wedlock, meddling parents and scheming peers. Through it all, Sonny continues to be one of Salem's most standup guys and that's just the way Smith likes it ... sort of.
Plus: TV shows based on books | Sexiest stars of summer TV | Series that look awfully familiar 
After reading this, check out MSN TV's Q&As with Daytime Emmy nominees Peter Bergman, Jason Thompson and Scott Clifton.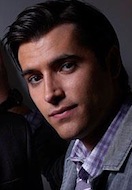 MSN TV: Are you ready for the Daytime Emmys?
 
Smith: It kind of just hit me. There's a pre-party [for the nominees] Thursday and my parents are flying in Friday, so I'm excited.
Any nerves?
I'm more nervous to present [Outstanding Lead Actor in a Drama Series] than about winning or not winning, because that just is what it is. People always laugh at me about this, because I'm an actor. I'm in front of cameras and I do interviews and I'm completely comfortable, but reading a teleprompter or anything in front of a group of people is my biggest fear. That's something I'm conquering by presenting, even though it's just going to be a couple lines, so I'm excited to do it.
How do you feel about going up against your on-screen love, Chandler Massey (Will)?
We were just laughing about that. I was like, "For fun, we should write each other's speeches." We don't care. We're just happy, because how often do actors playing a couple on a show both get nominated?
In the same category, no less! That might actually be a first.
We feel honored. This is incredible. We're happy for each other. We're going to go to the pre-Emmy party together and just enjoy this.
Your Daytime Emmy reel involved Sonny supporting Will's coming-out process and then revealing he had feelings for him. Was that choice a no-brainer?
I had no idea what I was going to submit. I went on YouTube, typed in "Sonny and Will," and started looking through the clips. When I saw that one, I said, "This is it." I remembered shooting it and I felt good about it. It was such a truthful scene and had so much depth and meaning, and it was also a very Sonny scene. He was talking about his feelings.
Sonny and Will have come a long way since that clip. Your most recent storyline was barely about them being gay and saw them playing heroes.
That's what's great. It's not even a gay story anymore. It's about two people in love. We hit that milestone where we're just like any other couple and that's how it should be. That's what our goal was. Chandler and I just did the best we could every day and there's a trust that we've built with each other. I always feel, in every scene we shoot, that we've got each other's back. I think that's part of what chemistry is: Just trusting the other person.
Was it fun to work classic soap moments like an emergency baby delivery and all the drama on the island?
I would say a more typical soap scene is sitting at a table, getting upset, walking away to think about your feelings and pouring coffee. There's not much action, so for me, it was like being an action star for a day. I got to deliver a baby. We're peeking in windows. We're fighting. We're running. And then there was the emotional part of it, too. It was such a tense week when Will was in the hospital. Everyone was so supportive. I was especially proud of that week of work. It was just different and exciting and we were able to grow, as people and as characters.
In a surprise twist, Nick has pulled back and now Gabi and the baby are moving in with Sonny and Will. How is that going to go?
I don't know if Sonny's thought this through. He's got a life partner, who has a baby with a woman, and now they're all going to move in together -- it doesn't sound like anything wrong will happen! [laughs] It's going to be super tense and there's going to be a lot of bickering, because they're all new parents and they're young. But there's also a lot of heart and you see these characters come together and grow together. We're shooting into mid-October and we're still dealing with living together -- learning who watches the baby, who gets to go out and when tragic things happen, we have to handle Arianna and getting a babysitter. It's such a dynamic. A completely fresh storyline. It's going to be an exciting ride.
Between the baby and Sami's newest craziness, Sonny's parents Justin (Wally Kurth) and Adrienne (Judi Evans) will once again question his relationship with Will. Can you tease what's coming there?
It's going to get extremely tense. The thing I love about Judi and Wally's characters -- we get along wonderfully, but as a family. It's parents and son. It's not a friendship. I have that with my parents. We love each other and we're so close, but they're my parents and they've always got advice: "Freddie, I don't think it's a good idea. Do what you want, but this is our opinion." Certain times, I'm like, "You guys are wrong. I know what I'm doing. I'm 25 now!" and then six months later, I'm like, "So, you guys were right..." It's about learning from your mistakes, but also standing up as an adult. That's what Sonny does. His life is going to change -- he has a kid now -- but he loves Will more than anything and that's what matters most to him. 
Is there a storyline you'd like to see for Sonny?
I'm very happy with the way things are going. Everything Sonny wants, he gets, even though there's all this drama. He's a cool character. He's just so smart and always has a level head. He's always the man. But he's been such a poster child [that] I'm just waiting. I know there will be a time where he unravels. That's going to be fun to play and see how he deals with it. You don't want that stuff to happen in your real life, but on TV, it's cool to play a spiraling character. It's fun to get those emotions out -- get angry and upset and say things you'll regret. That drama is what soaps are about, and as soon as they yell cut, you can go back to your happy self.
The 40th Annual Daytime Emmy Awards airs Sunday, June 16, at 8 p.m. ET/PT on HLN. "Days of Our Lives" airs weekdays on NBC.
Are you sure you want to delete this comment?