Daytime Emmy Q&A: Jason Thompson
Lead Actor nominee talks awards show and 'General Hospital'
With the 
40th Annual Daytime Emmys
 set for Sunday, June 16, MSN TV caught up with Outstanding Lead Actor nominee Jason Thompson (Patrick, "General Hospital"). The leading man opened up about graduating from the Supporting Actor race, choosing his submission reel, Patrick's current love triangle and hitting the CMA Music Festival.
Bing: More about the 40th Annual Daytime Emmys | "General Hospital" | Jason Thompson
Thompson's Emmy reel goes back to when Patrick was still mourning the passing of his true love, Robin (Kimberly McCullough). These days, he's trying to juggle single fatherhood, a new romance with Sabrina (Teresa Castillo) and his responsibilities to his pregnant ex, Britt (Kelly Thiebaud). Whether she's really carrying his baby or not, Patrick's got a lot on his plate.
After reading this, check out MSN TV's Q&As with Daytime Emmy nominees Peter Bergman, Scott Clifton and Freddie Smith.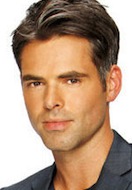 MSN TV: You just got back from the CMA Music Festival. How was Nashville?
Thompson: I had a blast. I love that city and it's fun to be a part of the country music scene. Out of the music and acting genres, country music and soap operas are the most accessible to their fans, which creates a great atmosphere. I'm just walking around the streets like anyone else and you're running into random people like Jason Aldean at a bar. You're part of the energy, which is fantastic.
Are you ready for this weekend's Emmy energy?
I guess so. Sometimes, the nerves get to you, but it's been a fantastic year and this is just icing on the cake. Bradford [Anderson, nominated for Supporting Actor] and I were actually talking over lunch about how fantastic it is to be nominated and what has to happen in order to even get to that point. Everything has to come together: You need the storyline and everyone has to be having a good day -- whether it's lighting, directing or you personally. So it's humbling to even be in the category. We're just going to try to have as much fun as possible, which I'm sure won't be a problem.
Who are you taking to the show?
My mom and dad, my brother and his fiance and my other brother are coming out, and my girlfriend will be there with me. It's going to be great. There's such a room of supportive people. Not only do I have all my "GH" family and my immediate family, but I feel there's a pretty good camaraderie among the soap opera people right now. We're all in this together and gotta support each other. It's important to pay homage to daytime television and the fact that we're all still here.
This year, you moved from the Supporting Actor category to Lead Actor. What went into that decision?
I talked to a couple of people about it. [The consensus was] "You were a lead actor within a lead story on the show that year, so that's classifies you as a lead." At the end of the day, I would say we're all supporting, because so much goes into these shows, but I might never get another year like I've had -- the storyline I was able to be a part of with Kimberly leaving, having to stand up on my own in a lot of ways [after] my dear friend Kimberly moved on, the "GH" 50th anniversary, bringing back the nurse's ball and getting the nomination.... It really has been a fantastic year, so I thought, "Why not?"
You submitted a scene that saw Patrick dealing with losing Robin. Was that a no-brainer?
Not at all. I didn't know what I was going to pick if this moment came. I was lucky enough to have a lot going on. There were a lot of scenes within the Robin story and then the addiction, which I had a great time playing. I wanted my clip to represent my year and I felt those scenes did. Kimberly and Brooklyn [Silzer], who plays little Emma, were in them and I felt it had a lot of what Patrick went through that year.
Plus: Miss USA 2013 contestants | TV shows based on books | Sexiest stars of summer TV
It's amazing how far Patrick has come since that submission scene, let alone since we met him!
He's grown a lot and torn down a lot of walls, and it's been a long process. If you know Patrick and what he's been through, you can see that. It's been amazing to get him through all these layers and strip away at him.
How are you enjoying Patrick's triangle with Sabrina and Britt?
I'm having a good time. Kelly and Theresa were asked to come into a difficult situation, with a lot of fans knowing Robin is still alive. I was new to this genre seven years ago, so I understand what it's like having to get your feet wet and being a part of something like that. It's tough and they're doing a great job. For me, it's been great to be a part of something new and one of my favorite actresses to work with is Brooklyn, so I'm having fun.
Why do you think Patrick attracts crazies like Britt and Lisa?
Honestly, I don't know. I do think Lisa and Britt are totally different stories. I guess you could say they're both a little crazy, very vulnerable and a bit lost, but I don't actually see much of a comparison. I think Patrick and Britt had some real moments in the beginning and he hasn't seen all the things that she's done. I'm not convinced he knows she's as conniving as everyone else says she is. From the outside, I'm sure everyone's thinking, "You're an idiot! Can't you see the signs?" But his reality is not what the audience sees. The decisions he's making still work, in his mind.
Plus: Miss USA 2013 contestants | TV shows based on books | Sexiest stars of summer TV
Do you think he and Sabrina can build a strong enough relationship to make it a tough triangle if/when Robin returned?
They could get there, yeah. I'm not exactly sure if Patrick realizes what's going on. Everything's going pretty fast. It's been a little over a year since he lost his wife and here he is, with a new girlfriend and another girl pregnant with his baby, as far as he knows. It's not on the page, but I imagine he has these moments at home where he's like, "What the hell are you doing? You're kind of screwing this up. What kind of damage are you doing to Emma?" There's a lot that has to be figured out, but depending on what happens with the baby and how much he trusts Sabrina's intuition... If she's right all along, that could definitely push them further into the relationship.  
Is there anything you'd like to see for Patrick?
When I first got on the show, Patrick's biggest fear was ending up like his father [Noah Drake, played by Rick Springfield]. Cut to six or seven years later, he kind of is that guy. He's gone through a pill addiction. He's gone through a marriage where he lost his wife. He didn't want to fall in love, in the first place, and then he didn't want to end up on his own, and here he is. Now, he's gotten another woman pregnant. It wasn't through an affair like Noah's, but Patrick's got his own somewhat broken home. There's a lot of similarities there and I'd like to play that a bit. That said, I trust [executive producer] Frank Valentini and [headwriter] Ron Calavarti. They know how to tell a story, so whatever happens, I'm game.
Want more TV? Find MSN TV on Facebook and Twitter

"General Hospital" airs weekdays on ABC.
Are you sure you want to delete this comment?