'Devious Maids' summer premiere date set
Daytime icon Susan Lucci plays depressed, horny socialite for Marc Cherry
After what feels like an eternity of buzz, Marc Cherry's "Devious Maids" will finally premiere this summer. Inspired by the telenovela "Ellas son la Alegría del Hogar," Lifetime's new 13-episode upstairs-downstairs series follows the (mis)adventures of five Beverly Hills maids and their employers. The new dramedy stars Susan Lucci and, as with Cherry's breakout "Desperate Housewives," it all starts with a mysterious death. 
Bing: More about "Devious Maids" | Susan Lucci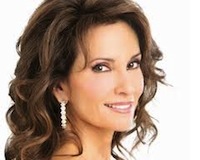 "Devious Maids" will finally debut Sunday, June 23 and soap opera fans are sure to recognize former daytime and prime-time favorites among the regulars and guest stars. 
"All My Children" icon Susan Lucci has generated a lot of buzz for the series and promises to bring drama and laughs as codependent and unstable socialite Genevieve Delatour, but the sudsy tale revolves around five ambitious maids, played by Ana Ortiz ("Ugly Betty"), Dania Ramirez ("Entourage"), Roselyn Sanchez ("Without a Trace"), Edy Ganem ("Livin' Loud") and Judy Reyes ("Scrubs").
The ensemble also includes Rebecca Wisocky ("American Horror Story"), Brianna Brown ("Homeland"), Tom Irwin ("Grey's Anatomy"), Brett Cullen ("Damages"), Drew Van Acker ("Pretty Little Liars"), Mariana Klaveno ("True Blood"), Matt Cedeno ("Days of Our Lives"), Melinda Paige Hamilton ("Mad Men") and Grant Show ("Swing Town"). The series also boasts "Desperate Housewives" alum Eva Longoria as an executive producer.
Plus: TV's best intros | TV's comeback stars | TV-viewing theme party guide 
The story kicks off when one of the "Devious Maids" (Paula Garces, "CSI Miami") is brutally murdered during a major social event. The murder mystery brings the other maids together, but that won't be all the drama afoot, according to the Lifetime press release.
In "Devious Maids," murder and mayhem collide in the mansions of Beverly Hills' wealthiest and most powerful families. Class warfare has never been as fun and dirty as it is in the tony enclave where the staff is as clever, witty, outrageous and downright devilish as their employers. Whoever holds the dirt holds the power, and before the season is over, illicit affairs will be revealed and deep dark secrets exposed as we learn the sordid details behind a shocking murder of a beloved housemaid.

The series centers on a close-knit group of maids who are bonded together by their jobs, life struggles and the melodramatic
"upstairs-downstairs​"

universe that engulfs their employers. Rosie (Ramirez), a widow who left her son back in Mexico when her husband died, works as the maid and nanny for a pair of self-absorbed and successful actors, Peri and Spence Westmore (Klaveno, Show). Aspiring singer Carmen (Sanchez), hopes that her pop star employer Alejandro (Cedeno) can help jump-start her career, but Odessa (Melinda Paige Hamilton, Mad Men), his very loyal housekeeper and her boss, will stop at nothing to stand in her way. Zoila (Reyes) is the senior maid for Genevieve Delatour (Lucci), a co-dependent, emotionally unstable wealthy woman. She works alongside her teen daughter Valentina (Ganem), who has a crush on Genevieve's handsome son, Remi (Van Acker).

In the series premiere, the women turn to one another for support when their friend and fellow maid Flora is brutally murdered at the home of her employers, Evelyn and Adrian Powell (Wisocky, Irwin), at one of the largest society events of the year. Meanwhile, newcomer Marisol (Ortiz) is hired to clean the home of Taylor and Michael Stappord (Brown, Cullen), a newlywed couple with a complicated love history. But Marisol has ulterior motives and when someone she loves becomes wrapped up in Flora's murder, she goes undercover to learn the truth. 

"Devious Maids" premieres Sunday, June 23, at 10 p.m. ET/PT on Lifetime.