Harrison Ford storms off 'Jimmy Kimmel'
Actor refuses to answer 'Star Wars' questions; publicly feuds with Chewbacca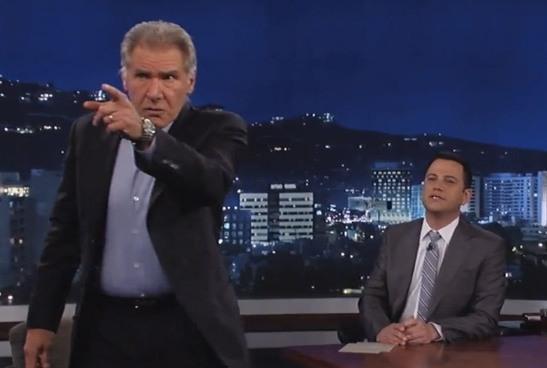 Harrison Ford appeared on last night's edition of "Jimmy Kimmel Live" to promote his new movie, "42," but the visit did not go quite as planned.
Bing: More on Harrison Ford | Bing: More on Jimmy Kimmel
Things got a little tense after Kimmel brought up the upcoming "Star Wars" movies, in which Ford is rumored to be reprising the role of Han Solo.
Ford politely refrained from discussing the movies, but was open to taking questions from the audience. That's where the real trouble started.
Plus: Left-field reality stars | 10 new gigs for Jay Leno | Reality shows that sound fake

It seems someone from the actor's past was there to settle a longstanding grievance -- but Ford was not having any of it.
Check out the video below. What do you think? That Harrison Ford has a sense of humor doesn't he! Give us your thoughts at MSN TV on Facebook and Twitter.