'How I Met Your Mother' finally reveals the mother
Season 8 ends with Ted's future wife, and who it is may surprise you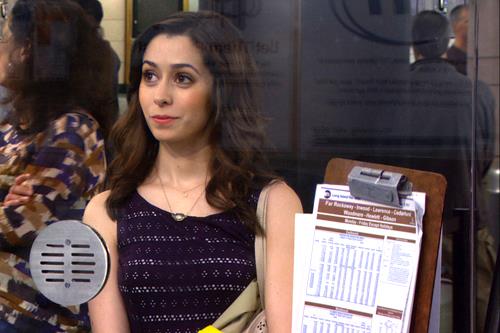 ICYMI: This post includes details from the "How I Met Your Mother" Season 8 finale.
After eight seasons, fans of the hit CBS comedy "How I Met Your Mother," finally know who the mother is. It's actress Cristin Milioti, who appeared at the tail end of the show's Season 8 finale Monday night.
Identified only as "The Girl With the Yellow Umbrella," Milioti will play a major part in the final season of "How I Met Your Mother," when the sitcom returns next fall, CBS confirmed. For weeks, fans have been speculating about who the mother would be, drawing from a long list of guest stars who have appeared on the show, including pop star Britney Spears.
Bing: More on 'How I Met Your Mother' | Cristin Milioti
Milioti is best known for her Tony-nominated performance in the stage production of "Once," and her turn as "sexy baby" writer Abby Flynn on the "30 Rock" episode, "TGS Hates Women." Best of all, fans can't have any preconceived notions about what kind of woman she is because Ted (Josh Radnor) hasn't met her yet. A closing montage showed everyone en route to Barney (Neil Patrick Harris) and Robin's (Cobie Smulders) wedding, but Milioti's character wasn't introduced to anyone other than the audience.
Plus: What we learned from 'The Office' | 10 reasons to love 'The Mindy Project' | TV's hottest moms
"It was a pretty big umbrella to fill, casting the title role in a series that's been on the air for eight years," said Carter Bays, the co-creator and executive producer behind "HIMYM," in a statement. "And yet Cristin Milioti is, against all odds, exactly what we were looking for. She made us laugh on '30 Rock,' she made us swoon in 'Once,' and her ukulele skills are no joke. We're thrilled to welcome her to the 'How I Met Your Mother' family, and look forward to getting to know her -- and the character she plays -- much better in the coming final season."
Rumors have been swirling that the whole season will play out in real time. Bays didn't confirm or deny this but said Season 9 will, "tell the epic story of the longest wedding weekend ever" and that he and co-creator and executive producer, Craig Thomas will, "take some risks with time."
"How I Met Your Mother" returns for its ninth and final season this fall on CBS.