June soap casting buzz: Who's coming and going?
The latest on Michelle Stafford, Tyler Christopher, Chandler Massey and more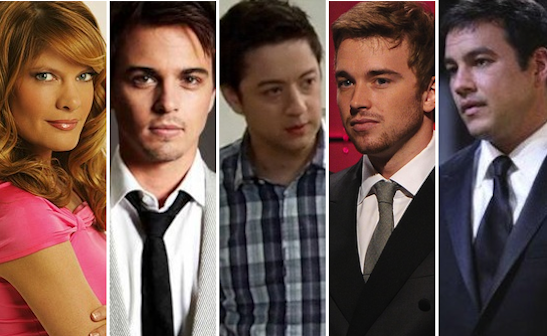 It's hard to keep up with all the casting updates for "The Young and the Restless," "The Bold and the Beautiful," "Days of Our Lives" and "General Hospital." Here's a roundup of who's coming and going on each of the big four soap operas.
Bing: More about "Young and the Restless" | 'Bold and the Beautiful' | "General Hospital" | "Days of Our Lives"

Get the story on Michelle Stafford's last day and soap-hopping rumors, Tyler Christopher and Bradford Anderson's contract news, Drake Hogestyn's exit, Chandler Massey's long term plan, Casey Deidrick's exit and more.
"The Young and the Restless"


Daytime Emmy favorite Michelle Stafford (Phyllis) wrapped her run in Genoa City on June 19 with the promise that Phyllis will go out with big story this summer.
"Today I finish my 15 year gig at my job … Wow!" Stafford posted on Facebook. "I'm excited and sad. I so LOVE the people I work with! I suppose if I was a person who didn't believe in future I would think that this was it for me…but I don't feel that way.  There is SOOOO much out there. I am very excited to live a new life. I am so grateful that these guys employed me for so many years. Honored and humbled that Bill Bell hand picked me to play this crazy, funny, damaged woman by saying in the meeting 'I want the one in the red dress.' I suppose I should thank Calvin Klein as well…It's been a wild ride that has finally come to a stop. I feel nothing but love man. Nothing but love."
"I will air on the show through July into the beginning of Aug!" she tweeted. "There is much more to see!! VERY fun story with many twists!! Trust me!"
With rumors already swirling about Stafford joining "General Hospital," word was that she partied with ABC instead of CBS after the Daytime Emmys. Stafford shot down gossip, in general, on June 18, without getting specific; while a CBS rep insists she was indeed at the CBS party for awhile. Needless to say, the powerhouse's co-stars are hoping the rumblings aren't true.
"She needs to explore other things," Peter Bergman (Jack) said when MSN TV caught up with him recently. "We're just hoping it's not another soap, because we'd be disappointed." 
Before Phyllis heads out of town, her son Daniel will show up for a visit. He exited the canvas back in January, after portrayer Michael Graziadei decided to end his eight and a half year run on "The Young and the Restless." Daniel will be in Genoa City for four episodes, starting Tuesday, July 30.
Camryn Grimes (ex-Cassie) will be also back in Genoa City for more than one episode, starting Monday, July 8. Nick and Sharon's daughter Cassie passed back in 2005, but has come back to visit her father a few times. In the face of Summer's paternity reveal, Nick could use a visit. 
Leslie Stevens (ex-Justine, "Search For Tomorrow") has been tapped to play Rose. The mysterious new character may have some information regarding Neil's blogger drama. She first appears on Thursday, July 25.
Dylan's old war buddies Stich is coming to town Friday, June 28. Stand up comedian and action stud Sean Carrigan ("The Flip Side," "The Event") has landed the recurring gig. 
Jacqueline Mazarella appears as Eleanor and Tiffany Baldwin appears as Marti on Monday, July 1.
Plus: TV's hired help | 'Mad Men': Best moments of Season 6 | True-crime TV movies 

"The Bold and the Beautiful"

Darin Brooks' new character Wyatt Fuller is about to shake things up on the "The Bold and the Beautiful." The new addition shows up Friday, June 21, with daytime vet Rena Sofer arriving Friday, July 12 as his mother, Quinn, a jewelry designer who has been keeping a dark secret for some time. 
"It's been great," Brooks raved of his new gig. "They threw me in and I've already shot like 20 episodes. My first episode, I'm naked. Wyatt's going to have some fun. He's going to start stirring things up for Liam, we hope."
With Jacqueline MacInnes Wood's (Steffy) taking a break from the show, Liam's already had his world stirred up, quite a bit. Since learning she can't get pregnant again, Steffy's been pushing Liam back toward Hope, who is welcoming him back with open arms. Scott Clifton, who just won a Daytime Emmy for playing Liam, made a point of noting that his co-star's break is not the end of the road for her character or the Steffy/Liam/Hope love triangle.
"Let me be clear: She's not gone," Clifton said of Wood. "She'll be around. She has no intention of never showing up again. She's going to be coming back, but in terms of what we're shooting now, the dynamic has begun to change in a really cool way that I'm excited for you guys to see."
As for Wyatt's mysterious mom, MSN TV is smelling a paternity reveal, but we'll have to wait and see what her secret is. Whatever showrunner Brad Bell has in store for Daytime Emmy-winner Sofer, it sounds like it's going to be big. 
"Rena's powerful screen presence and vast range as an actress is what intrigued me most," said Bell. "I look forward to challenging Rena with this role."
"Survivor" alum Malcolm Freberg (Forrester employee Malcolm) returns June 24. Heather Tom's real life son Zane Achor (Baby Will) returns June 25. Eric Scott Cooper appears as Gustav on June 26. Jacqueline Hahn (Dr. Caspary) returns June 27.
Fourth of July brings Zack Conroy (Oliver), "Big Brother" alum Rachel Reilly (Rachel) and Sandra Vergara (Teresa) back to canvas July 4 and 5, along with newcomer Joseph Francis (Donovan).
"Days of Our Lives"

Two-time Daytime Emmy-winner Chandler Massey (Will) revealed he does not plan to re-sign his contract come December.
"It's been such a pleasure and privilege working on 'Days' - It's changed my life for the better,'' Massey said after winning his second Daytime Emmy award June 14. "I came out to Los Angeles and enrolled in UCLA. After this is up, I want to go back to school. Before [I do] anything else, I want to get a degree. My intended major is Mandarin Chinese, but I might want to double with International Business. I had to put it on hold for 'Days' and have been going to Extension and maintaining a class a quarter. Now, I'll get to jump into it."
Casey Deidrick (Chad), who was spotted on "Glee" and "Revolution" in April, has wrapped his run in Salem. Based on a pic he tweeted of his final script, he will exit the canvas sometime around Halloween. 
"Taped my final episode today on#DOOL," Deidrick posted June 20. "One more day of filming tomorrow. What an amazing experience, thank you all!"
This news comes on the heels of a "Days of Our Lives" casting call for "Derek," a 20-something hunk that sounds a lot like Chad. That means the show could be recasting the role. 

Drake Hogestyn (John) hasn't been clocking in at "Days of Our Lives." According to a recent tweet from the actor, his last day was March 18, which means John should exit the canvas this fall. There there was buzz that he'd returned to set since his post, but his daughter Alex was quick to tweet that was incorrect.

Rumor has it Bryan Dattilo (Lucas) has been dropped back to recurring status.
Joshua Benard, the eight-year-old son of "General Hospital" heartthrob Maurice Benard, is getting his paperwork together for an upcoming stint on "Days of Our Lives," according to a tweet from his mom.
As previously reported, Chrishell Stause's (ex-Amanda, "All My Chidlren") mysterious snew character is set to appear sometime in early August. The role is still hush hush, but her twitter feed reveals she's been working with Alison Sweeney (Sami) and Arianne Zucker (Nicole).
Joe Mascolo's Stefano exited canvas June 14 and it's not clear when he'll return.
Salem veteran Patsy Pease (ex-Kimberly) told Facebook fans she's been approached about reprising her role for scenes taping in mid-July and airing some time in November.
"General Hospital"

Tyler Christopher (Nikolas), who made a surprise return to "General Hospital" just in time for the big 50th anniversary back in April, has officially signed a contract to be a series regular, again. 
"It took us a few months to work out the details, but I signed last week," he told Soap Opera Digest in mid-June. "I'm really happy about it. I love the show and I'm having a great time."
Co-star Bradford Anderson (Spinelli) has made the opposite move. Back in May, he opted not to sign a new contract with the soap and dropped to recurring status, but that doesn't mean Spinelli is leaving Port Charles. 
"Hey friends, I am still at GH and will continue to be," Anderson tweeted. "Recurring isn't a bad word:) keep watching, great stuff is coming!"
Want more TV? Find MSN TV on Facebook and Twitter