'Justified' Season 4 finale a nod to Tarantino
Executive producer wanted a closer that started big, ended small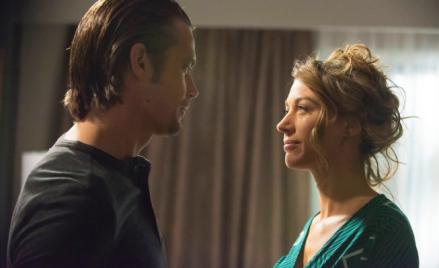 Spoiler alert: This post contains plot points from the "Justified" Season 4 finale.
If the bullet-filled Season 4 finale of "Justified" felt a little familiar, there's a reason said Graham Yost, the crime drama's executive producer.
"We found ourselves referring to Quentin Tarantino's work a lot in the last third of the season," Yost told TV Guide about the installment, which aired Tuesday night on FX. "The way 'Kill Bill' was structured, there was the big huge shootout at the club and all of the confrontations got smaller and smaller until the very end when Thurman is sitting across the table from Carradine."
"The last episode starts really big (with) Raylan and Winona versus these three thugs in the nursery," he added. "Then things got smaller and smaller until it's just Raylan and Nicky Augustine in the back of the limo. We didn't feel that we would be satisfied if Raylan just pulled a gun and shot Nicky."
Speaking of Raylan (Timothy Olyphant) and Winona (Natalie Zea), not only was the nursery shootout thrilling to watch but it also brought the two characters closer together in ways not even Yost imagined.
Plus: From big to small screen  | 'Scrubs': Where are they now?
"We've so often played Winona as cranky and upset with Raylan," Yost said. "But even though it was because of Raylan that she found herself in a nursery with a gun to her belly, he managed to dispatch those guys and eliminate the threat. There was something there. And the long kiss they gave, that wasn't necessarily planned. That's stuff that developed. But I was surprised by the emotion between them, and it really gave me a feeling that we want to see as much of Winona as we can."
Yost said fans can expect a Season 5 with a more criminally savvy Boyd (Walton Goggins) hell-bent on revenge and a cornered Ava (Joelle Carter) in jail.
"(Boyd) getting his criminal empire is not why Ava's going to jail," Yost said. "But he also is just obsessed with his loss of Ava at this point and what is he going to do about that. (And Ava) I can't imagine Ava wanting to just keep her head down. I've got a feeling that trouble will find her."
When the series returns, fans will also see a possibly promoted Raylan still riding high after finding and capturing Drew Thompson aka Shelby Parlow (Jim Beaver) and taking down Nicky Augustine (Mike O'Malley).
"He's at the top of everything," Yost said. "In this case, we just thought this was a smart way for Raylan to eliminate the threat to Winona and the baby and not lose his job as Marshal. (Raylan's) really splitting the difference between how Arlo (Raymond J. Barry) handled things and how (his mother) Frances handled things.
"Frances looked to be the conciliator and make peace and Arlo wanted to scorch earth. Raylan ends up finding that perhaps he exists somewhere in the middle."
"Justified" Season 5 debuts in 2014 on FX.