Katey Sagal to play Artie's mom on 'Glee'
Executive producer Ryan Murphy announces dream casting on Twitter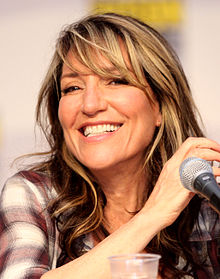 Casting dreams do come true.
Kevin McHale, who plays Artie on FOX's beloved musical "Glee," said he wanted Katey Sagal to play his character's mother during a Comic-Con panel last summer -- and now she is. Executive producer Ryan Murphy made the casting announcement on Twitter late Thursday night.
Bing: More on 'Glee' | Katey Sagal | Kevin McHale
"So thrilled to announce my friend Katey Sagal is playing Artie's mom on Glee!," Murphy tweeted about the "Sons of Anarchy" star. "There is nothing this woman can't do!"
Plus: TV-themed party guide | 'Mad Men' Season 6 pre-cap
Look for Sagal, 59, to make her grand "Glee" entrance during an episode in May, TVLine reports. No word yet on who will play Artie's dad but McHale said he'd like it to be Harry Connick Jr., 45. Hey, McHale's first wish came true. Maybe Murphy will grant a second one.
"Glee" airs Thursdays at 9 p.m. ET/PT on FOX.
Ryan Murphy erred by putting an able-bodied actor in a wheelchair. Wrong for too many reasons to post here. As far back as the 1970s then-governor Jerry Brown created PATH: Performing Arts Theater for the Handicapped ... a name that isn't PC today ... but the idea was solid. Physically challenged actors for physically challenged parts. Whatabout character flashbacks? 1) Don't do them or 2) find a reasonable look-alike.
Are you sure you want to delete this comment?