Kris Jenner daytime premiere date revealed
Trial run of Kardashian momager's talk show comes together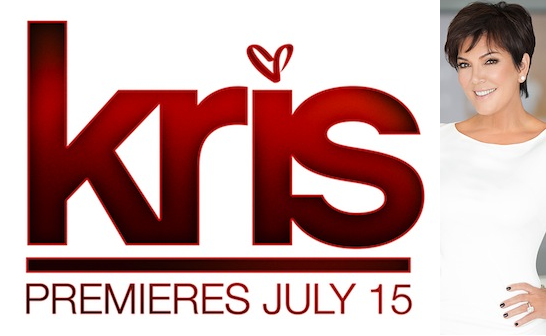 Kris Jenner's daytime talk show is ready for summer launch. With the "Kris" official start date confirmed, Emmy-nominated Robert Lifton has been tapped to executive produce the six week test run, which promises to be a "cool," "fun" celebrity- and lifestyle-driven talker.
Bing: More about Kris Jenner | The Kardashians
After a year of hype and speculation, "Kris" is set to premiere Monday, July 15, with Robert Lifton at the helm. While "Keeping up with the Kardashians" matriarch Kris Jenner is a household name, Lifton boasts over 20 years experience as a producer, writer, show runner and executive producer. His credits include E! Entertainment's "Daily 10," FOX Sports Network's "Best Damn Sports Show Period" and Bravo's upcoming "Property Envy."
"With Robert's energy and the experience that he brings to the table, I am beyond excited to begin this new chapter," Jenner said. "I am so happy he is on this journey with me, as I feel like I'm in good hands."
Plus: Left-field reality stars | 10 new gigs for Jay Leno | Reality shows that sound fake 

"With a background that spans both entertainment and sports television, Robert is the ideal choice to oversee the launch of 'Kris,'" added Stephen Brown, EVP of Programming & Development, Twentieth Television. "His expertise with pop culture and celebrities and his background in entertainment sports television will bring a high-octane pace and energy to each episode of 'Kris.'"
Twentieth Television is producing the daily, one-hour talk show, which promises to deliver "a daily jolt of celebrity guests, fashion & beauty trends; plus a mix of lifestyle topics - all through the distinctive and unpredictable perspective of Kris Jenner. Filmed in Los Angeles, the pop culture driven talk show will bring a cool wave of fun and high energy to summer television," according to an April 17 press release.
The summer talk show preview will air for six weeks on select FOX-owned stations, including FOX 5 in New York and FOX 11 in Los Angeles. Additional cities will be announced in the upcoming weeks.
"Kris" premieres Monday, July 15, on select Fox-owned stations.