'L.A. Confidential' sequel could be headed for TV
Follow-up to the Oscar-winning drama is being pitched to networks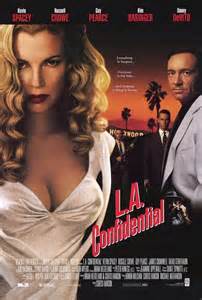 The hit neo-noir drama "L.A. Confidential" may live on via the small screen.
The television version would be a sequel to the Oscar-winning, 1997 flick and is being shopped around at broadcast and cable networks, Deadline.com reports.
Bing: More on 'L.A. Confidential'  | James Ellroy
Beloved author James Ellroy penned the 1990 book of the same name, which inspired the movie, and has written the TV version he and New Regency are pitching to network executives. A number of outlets are reportedly interested and Ellroy and New Regency hope to land a straight-to-series commitment.
Plus: Left-field reality stars | 10 new gigs for Jay Leno | Reality shows that sound fake
The film version of "L.A. Confidential" starred Kim Basinger, Kevin Spacey, Russell Crowe, Guy Pearce and Danny DeVito. Basinger earned a supporting-actress Oscar for her performance. The TV version will mine a whole new pool of talent, but like the movie, it will be murder-mystery based and focus on 1950s police corruption, organized crime, and tabloid journalism in Los Angeles.
This is just the latest attempt to bring "L.A. Confidential" to the land of TV. In 1999, HBO shot a pilot  as the first installment in a 13-part miniseries but later pulled the plug. If "L.A. Confidential" is picked up as a series, it will be one of a number of large-screen hits turned into small-screen series. The current list includes "Hannibal," "Bates Motel" "Parenthood" "Teen Wolf" and "Nikita."