Linda Cardellini dishes on her covert 'Mad Men' debut
Actress says not even her family and friends knew she had the role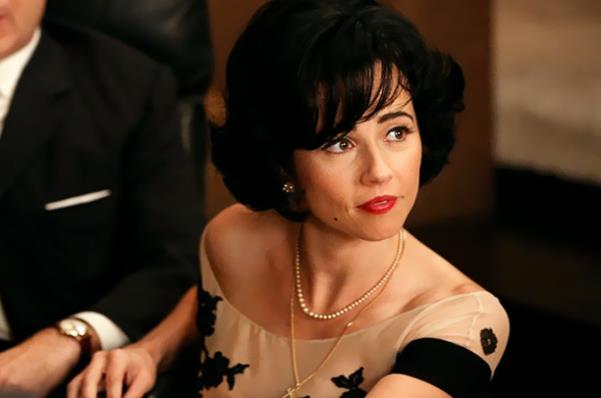 Spoiler alert: This post includes plot points from the Season 6 premiere episode of "Mad Men."
Remember when Don Draper famously said happiness is the moment before you need more happiness? Well, if you watched the "Mad Men" Season 6 opener Sunday, you know good old Don (Jon Hamm) has found, um, happiness in his neighbor's bed.
That's right. All that fidelity from last season has gone out the window and now he's sneaking around with Sylvia (Linda Cardellini). She's his neighbor and the wife of Dr. Arnold Rosen (Brian Markinson), a man Don seemed to befriend and admire right up until the moment viewers saw Don lying on top of Sylvia.
Bing: More on 'Mad Men' | Jon Hamm | Linda Cardellini | Matthew Weiner
Cardellini, who is best known for roles on "ER" and "Freaks and Geeks," said her new boss, Matthew Weiner, was so determined to keep the real nature of Don and Sylvia's relationship a secret that she didn't even tell her relatives she was on "Mad Men."
"It's really fun," Cardellini told Entertainment Weekly. "Usually people know what you're doing, especially with the Internet. People know what you're doing sometimes even before you know. To have it be a surprise for my friends and family who haven't seen me do anything for a while because I've been home with my daughter, (is) a really fun surprise."
Plus: Shows with more hype than ratings | TV viewing theme parties
Because she's playing Don's newest other woman, Cardellini said she also knows "Mad Men" fans won't like her character, or by proxy, her.
"You know, the hard thing about audiences not liking what a character does is that they sometimes take it out on the actor personally," said Cardellini, who played a teen homewrecker on "Boy Meets World" back in 1998. "That's something that you know when you become an actor or actress, but it's always hard to deal with when it actually happens."
Cardellini can't say much more about her character or what's going to happen next and she's just fine with that. "The secretive part isn't only for the audience," she said. "It's for everybody around (the) set. I think it keeps everybody on their toes and it keeps everybody involved in the future of the show. ... There are not that many jobs as an actor where you don't get to know what your character will be doing from episode to episode. It's sort of a giant unknown and you go along and trust. I think that's what's really special about 'Mad Men.'"
"Mad Men" Season 6 airs Sundays at 9 p.m. ET/PT on AMC.  
Are you sure you want to delete this comment?