Lorne Michaels talks Fallon and 'SNL'
Producer says he's not going anywhere, reveals a few regrets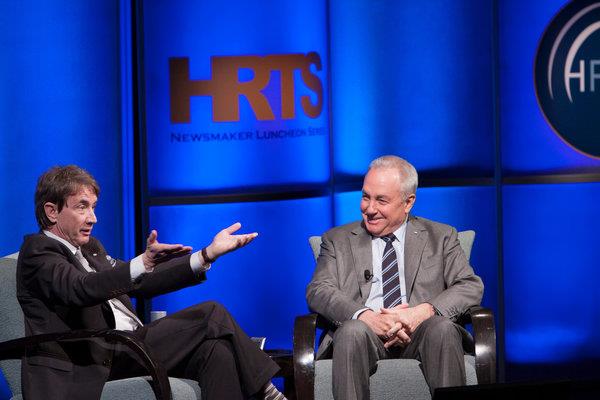 Lorne Michaels is arguably the most powerful man in late-night TV right now.
The venerable producer behind "Saturday Night Live" will take the reins at "The Tonight Show" once Jimmy Fallon becomes the host in early 2014. But that doesn't mean that he's walking away from "SNL" or that the hit sketch comedy, now in its 38th season, is going anywhere either.
Bing: More on 'Saturday Night Live' | Lorne Michaels
"As long as it's relevant, it should be on," Michaels said of "SNL" Tuesday at a Hollywood Radio and Television Society's newsmaker luncheon in Beverly Hills. Former cast member Martin Short moderated. "I'll do it as long as I possibly can. I think that there will be a day when I'll look at it and say I don't have the edge I used to."
Plus: 10 new gigs for Jay Leno | Reality shows that sound fake | Memorable TV introductions
In regards to "The Tonight Show" moving to New York and Fallon, Michaels said the city will be good for the host and the program. "The Tonight Show" has been based in Burbank, Calif., for more than 40 years. "Jimmy's from New York, the show appeals to New York," Michaels said. "I think New York is different from when (Johnny) Carson left and New York was on its ass."
Unfortunately, there were no follow up questions about who will replace Fallon as the host of "Late Night." Seth Meyers, "SNL" head writer and "Weekend Update" host, is believed to be the lead candidate. 
Instead, Martin and the audience asked Michaels about his views on Conan O'Brien and some of his "SNL" regrets. Michaels said O'Brien has the three attributes he looks for in talent: One, the ability to make him laugh and approach comedy in a different way; two, the discipline and the ability to be devoted and serious about the craft; and three, luck. "With Conan, I knew he's not going to sleep until he figures it out," Michaels said.
As for regrets, Michaels said he wishes he hadn't passed on Jim Carrey as an "SNL" cast member and that he hadn't taken a jab at past cast member Eddie Murphy in a bit. "I figured it was kind of a clean hit. I didn't really think about it. But Eddie did," Michaels said, recounting how Murphy called David Spade, who wrote the joke about one of Murphy's box-office bombs, and chided him. "(Murphy) said 'You're standing on my shoulders, you didn't get to be there unless I was there.' It was a mistake on our part."
"Saturday Night Live" airs Saturdays at 11:35 p.m. ET/PT on NBC.

I like Jimmy Fallon, Only got Conan some of the time, and I'm funnier than Jimmy Kimmel who literally fails upwards...don't know who he saw doing what, but he's parlayed it into a career! Leno is indeed like  watching paint peel-lol!!! And Letterman was ROBBED! Too bad Bill Maher is too edgy for mainstream, or we could really have something to talk about at the watercooler!
Am I the only one who doesn't find Fallon funny? Sure, I think anyone but Jay deserves the tonight show, but they ruined it long ago. Jay was dried paint peeling. and Fallon was nails against the chalk board. Sure Conan could be strange sometimes, and I'm sure the masturbating bear didn't win over the older Tonight Show audience. But Conan was a lot funnier. and more consistently funny. Firstly Dave should have gotten the tonight show, and when he retired it should be conan. Now I say forget nbc altogether when Dave retires from cbs give that show to conan. They could have given the tonight show to Arsenio, he's gonna be making a comeback. He may have been out of the game for awhile but he's still funnier than jay or jimmy.

If you look at the history of SNL, it has always had it's ups and downs. People said it's time had passed and it "totally blows", the cast sucks, take it off the air, "why bother to keep it alive" etc, at many different times in the 38 year history. It may be in a  bit of a slump, especially this season, but it still has it's funny moments and I'm sure it will be funny again.
Are you sure you want to delete this comment?