NBC considering a 90-minute 'Tonight Show'
Jimmy Fallon might get more screen time, 'Late Night' could be shortened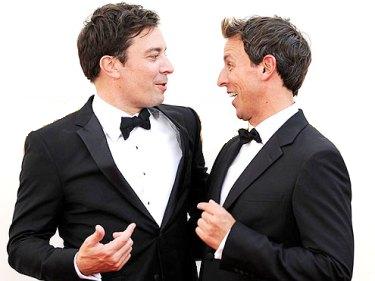 Jimmy Fallon's version of "The Tonight Show" will not only be vastly different from the current Jay Leno incarnation, but it might be lengthier.
NBC is reportedly flirting with the idea of making the late-night talk show 30 minutes longer, according to TV Guide. Such an expansion -- which has been tabled for now -- could lead to a smaller, abbreviated "Late Night." Meanwhile, Peacock executives have yet to announce who will replace Fallon as the host. 
Bing: More on 'The Tonight Show' | 'Late Night with Jimmy Fallon' | Jimmy Fallon
Seth Meyers, the "Saturday Night Live" head writer and "Weekend Update" anchor, is reportedly the front-runner for the retooled "Late Night." If the show is downsized and Meyers is chosen, he could revamp the format and turn the talk offering into "Weekend Update" on steroids.
More: Former MTV stars still on MTV | Short-lived late night shows | Family businesses on TV
Such a reality would benefit NBC and Meyers because he could play to his strengths and differentiate himself from Fallon while creating more of a "Daily Show" vibe. The "Weekend Update" style would also generate a roster of guests -- politicians, authors and athletes -- more organic and newsy than the celebrities Fallon would court for "The Tonight Show," and eliminate booking wars.
Other possibilities include a more cost-effective "Late Night," produced in a truncated setting with a smaller audience -- similar to Bravo's "Watch What Happens Live." This would also mean there would be more of an emphasis on conversation and no band.
In addition to Meyers, NBC is also considering "Watch What Happens Live" star and Bravo bigwig Andy Cohen, as a potential "Late Night" host, as well as "America's Got Talent" emcee Nick Cannon.
"The Tonight Show With Jay Leno" airs weeknights at 11:35 p.m. ET/PT on NBC. "Late Night With Jimmy Fallon" airs weeknights at 12:35 a.m. ET/PT on NBC.