NBC denies eyeing Cooper to replace Lauer
Is the CNN anchor headed for 'Today,' and did Lauer try to bully him out of it?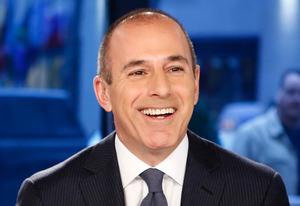 The drama that is NBC's "Today" show just keeps on going.
In the latest scuttlebutt, NBC approached Anderson Cooper to replace Matt Lauer. According to a Deadline.com story, Peacock executives wanted the silver-haired CNN anchor to take over Lauer's "Today" gig by the end of this year.
The story gets even more interesting because NBC reportedly asked Lauer -- who is a candidate to replace  Alex Trebek on "Jeopardy" --  for his blessings while courting Cooper. Instead, the "Today" anchor called Cooper and voiced his discontent. The interaction caught Cooper by surprise because he thought NBC was working with Lauer to make his possible hiring work.
Plus: TV's leaders of the pack | Post-apocalyptic TV
Cooper is currently under contract with CNN but has an out that allows him to work on CBS' "60 Minutes" and host his soon to be ending daytime talk show. As for Lauer, he signed  a $25 million a year deal that will keep him on "Today" for at least another year.
Meanwhile, NBC executives have not denied approaching Cooper but said he will not be replacing Lauer. "As we've said before, Matt Lauer is the best in the business. We want him in the 'Today' show anchor chair for many years to come," Alexandra Wallace, NBC News' senior vice president, told THR.
The NBC/Cooper/Lauer rumor is the latest to make news this week. On Sunday, New York magazine released a story that Lauer considered going to ABC not so long ago. Before that, Lauer told the Daily Beast he thought NBC mishandled his former "Today" co-host Ann Curry's firing.
Cooper isn't the only candidate NBC is rumored to be considering as Lauer's replacement. The list also includes "Today" co-host Willie Geist and David Gregory of "Meet the Press."
"Today" airs weekday mornings on NBC.