'One Life to Live' producers sue ABC for $25 million
Prospect Park files suit over licensing agreement breach and reboot sabotage

With the "All My Children" and "One Life to Live" reboots set to premiere online April 29, Prospect Park has apparently filed a $25 million breach of contract suit against ABC. The tussle over actors Roger Howarth, Kristen Alderson and Michael Easton and the "One Life to Live" characters loaned to "General Hospital" seems to be at the heart of the case.
Bing: More about "All My Children" | "One Life to Live"
Back when ABC cancelled "All My Children" and "One Life to Live," Prospect Park acquired licensing rights to both soap operas with the intent of rebooting them online. Now, word is Prospect Park is filing a complaint with Los Angeles Superior Court, charging ABC with breaking the 2011 licensing agreement and sabotaging reboot efforts, even though the network is poised to benefit financially from the shows' success.
"These shows will go forward, and Prospect will address its rights in Court," said the suit, uncovered by Deadline. "Regardless of how successful Prospect may be, the fact remains that ABC did not deliver what it promised, Prospect did not get what it paid for, and Prospect is now entitled to recover millions of dollars in damages for ABC's egregious conduct."
Plus: Left-field reality stars | 10 new gigs for Jay Leno | Reality shows that sound fake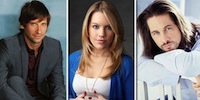 The tension between ABC and Prospect Park over the last year has been no secret, but things came to head, apparently, after "General Hospital" announced Howarth, Alderson and Easton would be back on screen May 10. Their "One Life to Live" characters Todd, Starr and McBain are not Prospect Park's only concern, however. Prospect Park loaned 7 characters to ABC while working to get the reboots off the ground and claims the network failed to give them approval over their characters' storylines, as promised in the agreement.
"In the ultimate act of bad faith, ABC inexplicably killed off two 'OLTL' characters on loan to 'GH' by having their car forced off a cliff. ABC effectively killed another major 'OLTL' character, who was not even licensed to ABC, by revealing that this long-standing 'OLTL' character is in fact another character (alter ego) on 'GH.'"
Also at issue are the web domains onelifetolive.com and allmychildren.com, which ABC is supposed to release to Prospect Park, and ABC's threat to hold back on running "One Life to Live" ads because Howarth is heavily featured in them. 
Prospect Park paints these disagreements as outright sabotage, claiming one ABC exec is "openly" rooting for the failure of the reboots and charging ABC with a "basic fear of embarrassment if Prospect succeeds."
When MSNtv reached out for comment, Prospect Park didn't quite confirm the suit, but made it clear something was afoot. 
"Prospect Park has been and continues to be committed to creating and delivering exceptional episodes of 'All My Children' and 'One Life to Live,'" said Prospect Park executives. "We have overcome each and every obstacle in an effort to make this dream become a reality. Over and over again our effort to bring these shows to audiences has faced challenges, and yet we, along with the actors, the writers, producers and the directors as well as our fans, have confronted and then overcome these challenges, and we have every confidence that we will prevail again. We look forward to our April 29 launch now more than ever."

This story is certainly a negative turn after weeks of juicy, fun press for the reboots. In addition to generating casting and guest performance buzz, Prospect Park released the first "All My Children" and "One life to Live" trailers, as well as teasers for the first week of shows.  
It also bears mention that while ABC apparently threatened to not air any ads for the reboots, Vincent Irizarry, Thorsten Kaye ("All My Children") and Erika Slezak ("One Life to Live") are currently slated to appear on ABC's "The View" Thursday, April 25. 
UPDATE
Shortly after this story broke, the websites onelifetolive.com and allmychildren.com began redirecting visitors to Prospect Park's theonlinenetwork.com​. 
"All My Children" and "One Life to Live" premiere Monday, April 29, on Hulu, Hulu Plus and iTunes.