Patrika Darbo talks 'Days of Our Lives'
Nancy will do anything for her daughter Chloe -- even kill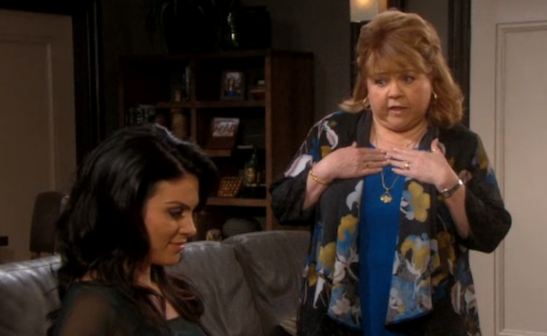 On "Day of Our Lives," Chloe is so intent on winning Daniel back from Jennifer that she called in one Salem's most talented schemers -- her mom! Nancy may not be the one calling the shots this time, but it's clear she's still got game. MSN TV caught up with portrayer Patrika Darbo, who considered how far Nancy would go for her daughter, rated Chloe's plotting skills and put a target on those to blame for Chloe's shift in character.

Bing: More about 'Days of Our Lives' | Patrika Darbo    
MSN TV: How have you enjoyed your return to Salem?
Patrika Darbo: It was terrific. It was like coming home, and like I never left. The only changes were some of the kids who were not even a glint in their parents' eye at the time are suddenly 18 years old. That's a little strange! (laughs) To be able to go back to do something that you loved and that was created for you is always a pleasure. I got to be with Nadia [Bjorlin (Chloe)] again and come on, I got to work with Shawn [Christian (Daniel)]! How cute is he?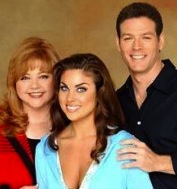 But you didn't get to work with your cutie, Kevin Spirtas (Craig).

I know. Fortunately, Patrika gets to see Kevin. We talk all the time, we email each other and if I'm in New York or he's out here, we get together. But it would nice to be on the boards with him, again, so to speak. Maybe the writers will get in mind to bring Craig and Nancy back again with Joy, and have her aged. Nancy didn't raise Chloe, but she raised Joy, so she's going to be something only her mother could spit out! And hell hath no fury like a mother/daughter team.
For now, Nancy and Chloe are doing well as the mother/daughter team on the scheme. What do you make of Chloe's newest plot, which involves Nancy taking Parker out of the country, while Chloe blackmails Jennifer into staying away from Daniel?

Oh, oh, oh, Momma has taught her daughter well! I'm not going to say whether it goes well or succeeds, but is a damn good plan.
Plus: The scoop on soaps | Post-apocalyptic TV shows | Top made-for-TV-movie performances

Does Nancy get why Chloe is so fixated on Daniel?

Come on, honey, have you seen him without his shirt? We know why everybody likes him. He's very cute, he's a doctor and he's a nice person, but I think that's also why Nancy says to Chloe, "You can lead a horse to water, but you can't make him drink." Chloe's reasoning is that so much has happened and, "He loved me once, he could love me again." That happens in real life: A mistake happens and you lose people you don't want to lose. Chloe is just not ready to let go.
How far will Nancy go to see her daughter get what she wants?
I'm not sure what the writers have in mind, but as far as Patrika's concerned, Nancy would be just like Kate: If I had to kill for my daughter, I would do it. I wouldn't let her do it. I would do it, because she's got her life to live and she's got a young child. And I would do it in such a way that I didn't get caught!
Do you think Chloe has Nancy's gift for scheming?
Nancy has more experience and again, you have to remember, she didn't raise Chloe. But we all, as women and mothers, have that gift. Some of us use it one way; some of us another. It's not that Nancy is evil or manipulative: It's just that people allow her to do it. She had a scene with Jennifer where Jennifer was yelling at her for doing stuff. Nancy reminded her, "Excuse me, your brother left town with someone else's wife." If you don't have a clean backyard, don't throw your trash in mine and tell me to clean it up.
Some moms wouldn't be happy to see their daughter's turn into scheming vixens. How does Nancy feel about it?
Nancy is a little apprehensive about it. Again, you can't make a horse drink, but Nancy would whip that horse or get a tube down its throat to make it drink for Chloe. She loves her daughter unconditionally and will do what Chloe wants. It would be another whole story had Nancy been around when Kate and Vivian were doing their thing. Someone would be in jail for murder.
You're clearly caught up on story now, but had you been keeping up with the show when you came back?

Not that much, but I would hear things. My emails and Facebook were full of, "Where they hell are you? Do you know what they're doing to Chloe? You should be here!" I agree with them. Nancy would have been there and there would have been a different story told, but that's not where the writers went at that time.
What's been keeping you busy, besides Nancy?
I got to be in and direct a web series ["Miss Behave"] and got an award for that. Now I'm working with Susan Susan Bernhart on another web series. I've got a film coming out, plus another film I'm getting ready to shoot in Michigan in May or June. I just did Marc Cherry's show "Devious Maids" It was episode 7, so it won't come out for a while, but that was terrific. I worked with Eric Winter's (ex-Rex) wife Roselyn [Sánchez], who plays the maid to Matt Cedeno (ex-Brandon), so my "Days" connection was there. And Susan Lucci is on the show, so there's the daytime connection. It's less than 6 degrees of separation in this business!
It sounds like you've wrapped taping at "Days of Our Lives," but there's still some drama to come. Is there anything you'd have liked to see Nancy handle before leaving town?

She would not let Kate get away with what she did. Lauren Koslow is a wonderful actress and there could be some terrific things there in what Kate did to Chloe. There's another chapter there that could really set Ms. Kate on her ear. You have to have retribution somewhere. Longtime viewers have to remember that Kate was responsible for someone dying! She should be in jail.
You know, the greatest part about soaps is that things like that come back to bite you, things can change and look how fast kids grow up! People find out there about kids they didn't know they had. There's a lot of potential, and that's what keeps the soaps on the air and going. It's the fans' love of their shows that keep them telling the writers what they want. In this day and age, with your phone being a computer and all the social media we have going on, tell the writers what you want to see on every and any show. Buy the products. Tell you friends to watch. It's so important to keep these four soaps that we still have on the networks alive and going. We don't want another one to bite the dust, even through we're very fortunate that "Once Life to Live" and "All My Children" found a home on the internet.
"Days" has great producers and writers. If this story can continue and they have time for it, there will be another chapter. There are so many places to go. 
"Days of Our Lives" airs weekdays on NBC.