Q&A With Debbi Morgan and Darnell Williams
Soap super couple talk online reboots of 'All My Children' and 'One Life to Live'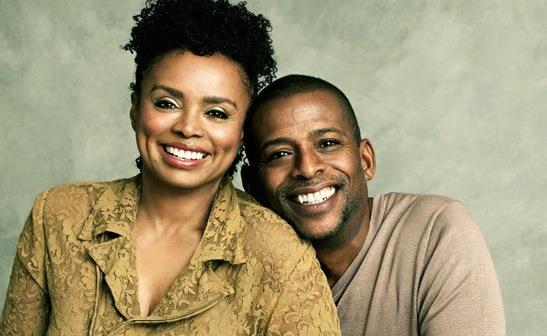 With the "All My Children" and "One Life to Live" premieres set to land online Monday, April 29, "All My Children" veterans Debbi Morgan and Darnell Williams talked to the press about the momentous soap opera reboots.
Bing: More about "All My Children" | "One Life to Live"
The pair considered life in the wild west of Internet TV and even teased a bit of what's ahead for their characters, Angie and Jesse. Here are some of the highlights of our chat with Morgan and William. 

MSN TV: These reboots have been a bit of a soap opera themselves: The initial push to come back online fizzled, and you both ended up on "The Young and the Restless." Then, all of a sudden, "All My Children" was coming back again. What was that roller coaster like for you?
Darnell Williams: It was kind of strange for me in a very good way, because when we moved, I took lock, stock and barrel out to L.A.. I bought a house and I put it out there. [After that ten months on "The Young and the Restless,"] it was like, "I'm ready to go back to New York." I went into the office of [casting director] Judy Blye Wilson and she mentioned that Prospect Park has reared its head again. I was like "What?!?" I hadn't heard anything. It's almost as if it was destiny for me, because everything just sort of fell into place.

Debbi Morgan: I wasn't as caught up in the excitement of it. I knew I was going to "Y&R," so I would not have even have been a part of it - so I'm actually so glad it did not happen then! Like Darnell, I started hearing it from other places before my manager called me. Darnell might even have called me before I talked to my manager. He was like, "It looks like it's really going to happen."
Plus: Left-field reality stars | 10 new gigs for Jay Leno | Reality shows that sound fake 
When did you really believe it was happening?
Morgan: That's so funny, because every single step, it was like, "Okay, is this really going to happen?"
Williams: I didn't believe it until I was on a plane headed back to work. I had already signed on with Prospect Park before the deal fell through, so I was really cautious this time. And the start date kept being pushed back, so I was like, "Oh boy. " We just had to approach it with much caution, which fortunately we did and lo and behold here we are, off and running! 
You two have been a big part of "All My Children" history and soap history. Do you have the sense that you're now a part of a whole new, exciting thing?
Williams: Oh absolutely. Are you kidding? Debbi and I were talking last night about the fact that soaps have gone from radio to TV now to online, and what an honor to be at the forefront of this brand new day.
Morgan: It's huge. I think in about four or five years or so, television is just going to be a monitor and everything's going to be done through the Internet. So to be something that's so groundbreaking and to have it be a success - it's just fantastic on so many different levels.
Williams: And I'd like to take a moment to send out a great thank you to Jeff (Kwatinetz) and Rich (Frank) and Ginger (Smith), the three people that are spearheading it for us. It's just an amazing opportunity.
Morgan: And I also want to send out a great thank you to the fans. If the fans had not been as vocal and as loyal as they've always been with "All My Children," none of this would have come to fruition.
Williams: Oh my god, the power of people. I love it.
Does the freedom of the Internet allow you to use racier material and language?
Morgan: Yes, different language, somewhat. There's something that I say in the first show that was quite funny, but I couldn't have gotten away with it before.
Williams: Some of the restrictions have been lowered, but we got a little excited that first week with the freedom of speech. And when we came back the second week, they said, "Okay guys we need to--
Morgan: Tone it down a bit!"
Williams: Because everybody was "F-ing this" and "F-ing that."
Morgan: But it was fun.
Williams: It was fun.
Morgan: It was a sense of freedom and creativity, but also just the way that we're being treated. We've never been treated so well doing [a soap]. My husband went with me to the premiere and I said, "Honey, this is Jeff. He's my new boss." And Jeff goes, "No, no, I'm not your boss. We're all in this together." I just thought that was so sweet. We would have never heard anything like that from Brian Frons (former head of ABC Daytime).
Williams: And to see these guys, with their hands-on approach! They're at the studio all the time and they're just - they're in the same boat that we are; whereas previously it was like, "We're up here and you're kind of not.: Not that they were mean or condescending in a way sort of, but it completely changed with these two guys, man. It just feels like a complete team effort.
Both reboots had a big screen premiere in New York April 23. What was that like?
Morgan: I don't think we've ever had a premiere for "All My Children" before or walked the red carpet.
Williams: It kind of felt like real actors there for a minute.
Morgan: [The fan's reaction and applause] almost made me cry.
Williams: It just satisfied my soul. It's a gift .

What did you think of "One Life to Live"?
Morgan: I really loved their intro, with them dancing. That was really cool. And they have such great characters on that show. It was exciting to get to see what they're doing, just as much as it was to see our own.
Williams: I was over the moon. I was more than thrilled with both productions.
Morgan: I was [also] impressed with our first show. I think the fans are really going to love it. I love that whole intro, [showing] the exteriors and what would be Pine Valley.
Williams: I was completely impressed. Bowed over.
There's a big story percolating for you two. Can give us a tease what's ahead for Angie and Jesse?
Williams: I'm reading scripts as they come in and I try to put myself in the mode [as Jesse], but it's hard for me, as an actor and as Jesse, to read it objectively. I immediately become immersed in the story and by the time I'm finished with the scene, I'm crying like a baby.
Morgan: Yes it's going to be very, very emotional Angie's always had [angst] in her life and it's always been a role of emotion - this isn't going to be any different.
"All My Children" and "One Life to Live" premiere Monday, April 29, on Hulu, Hulu Plus and iTunes.