Eileen Davidson talks 'Days of Our Lives'
Kristen isn't through with Brady or Marlena yet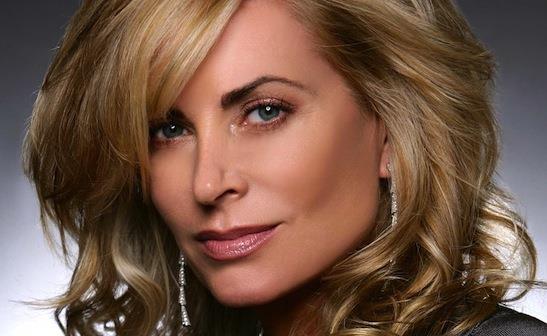 On "Days of Our Lives," Kristen chose love over vengeance. Unfortunately, it was too little too late. By the time she got to her fiance Brady, Marlena had delivered photo proof of her schemes. It didn't help Kristen's case when she kept insisting that being underneath John made her realize she was truly in love with Brady! Her happily ever after has imploded and the wedding is decidedly off, but this story if far from over.
Bing: More about "Days of Our Lives" | Eileen Davidson  
With twitter still teaming over Kristen's explosive scenes on "Days of Our Lives," MSN TV caught up with portrayer Eileen Davidson. The daytime diva reflected on shooting her showdowns with Deidra Hall (Marlena) and Eric Martsolf (Brady) and teased what's to come for her character.  
Davidson also spoke to losing former "The Young and the Restless" co-star Jeanne Cooper, since she wasn't available for the show's tribute episode last month. We've since learned Davidson is set to tape a special online tribute for CBS Monday, June 3. Watch CBS.com for more on that, and in the meantime, enjoy what Davidson had to say about all the drama in Salem. 
MSN TV: In the last week of May, "Days of Our Lives" viewers watched Kristen swing from confident schemer to buoyant woman in love with John, then sink into desperation with Brady and, finally, launch into attack-mode with Marlena. Those scenes must have been so much fun to shoot.

Davidson: It was kind of a mixed bag of emotions, but yeah, overall very fun.
What was it like to transition from one extreme emotion to another?

Interestingly enough, we actually shot those out of order! I shot the stuff with Deidre (Marlena) the day before the stuff with Martsolf (Brady). It was a little weird trying to figure out how it was going to match up, because I didn't know exactly what I was going to do the next day. Martsolf was watching me shoot with Deidra. He texted me, "I'm very proud of you. You're doing such a great job…. You better have something left in the tank for tomorrow!" He was terrific and it all worked out. I was happy there was more in the tank, and he brought his a-game.

Deidra was also incredible. She was making sure the set was quiet and asking everyone to please be sensitive to the fact that I had so much material. Very supportive actress, and she was present in the moment, too, which was fantastic.
The show always shoots a month or so ahead. What was it like to finally see how it turned out?
We're four months ahead now! I knew we had it when we shot it. Sometimes, you just know. But to see the fan reaction on Twitter and all around has been amazing. When there's that amount of material and you know it's a crucial story point - I mean, this is the pay off after months and months! - it's a great feeling of elation and relief to be able to deliver. 
Are you guys going to celebrate your success with a champagne toast now that it's aired? 
That's sweet. No! My son's got a flute recital and it's just back to the regular schedule, but that's not a bad idea. Maybe we'll do it at the Emmys. 
Usually, a soap breaks one story at a time, but the same week, Nick also faced his prison rape. Yours wasn't the only storyline that blew up.


I know. Is that insane? It's been a great couple of weeks of shows. Terrific and everything was amazing.
Plus: Series that look awfully familiar | TV shows brought back from the dead | Real-life bands on TV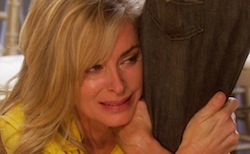 For many fans, what was most amazing was your performance: Even though Kristen made her own bed, you actually made us feel compassion for the lunatic when she was trying to convince Brady she loved him!

Thank you. For her to actually fall for him was probably the most horribly wonderful thing in the world for her. That makes her vulnerable, to care that much about somebody. She realized she did and was willing to be honest and risk everything, and then it's always Marlena! She has to ruin everything.
Was it hard to transition between all those emotions?
Getting back to the deep-seated hate isn't hard. The same thing with trying to convince Brady she loves him. I just understand this character really well. It kind of freaks me out how well I understand her, but I know how she feels about Marlena, Brady and John Black. They're very clear emotions. It's nothing vague.


So how does she feel about John now?


There was always some attraction towards him, because of the past, but basically, he was a tool. She was using him as a means to an end. Now, I don't think she has much use for him, period.
Kristen seems to have gotten what she originally wanted, in terms of blowing up John and Marlena's family for revenge. Does that matter now that she's lost Brady?


I don't think there's any feeling of vindication. It's interesting. As angry and vengeful as she definitely is, she's been through so much that she just has to toss her head back, chalk it up and keep going. She doesn't lie in bed, eat bonbons and watch Jerry Springer to get over her stuff. She moves on. She's like a shark that way.
Where can she go from here?

Well, we'll just have to wait and see. She's probably hell bent on getting Brady back - not to mention getting even! At the end of the week, EJ said, "Well, I guess you'll have to move on," and she said, "Who said anything about moving on?" She's not going to miss a beat.
Her family has been offering their help along the way. Is she going to give into the DiMera way, now?

To a certain degree. It's a struggle between her wanting help and wanting to do it on her own. What's been great about Kristen this time around is she's kind of sick of the men always being the leaders in the family. It's never been fully explored, but it's been alluded to and I've tried to play it as much as I can, whether it's written or not. She's over this family of patriarchs. She doesn't want to have to rely on them or be controlled by them. She wants to do the stuff on her own.
With Brady reeling from the reveal that their romance was a scheme, Nicole has been there for him. How will Kristen handle it if those two get back together?

Probably not too well. (laughs) Ari [Zucker, Nicole] and I love working together and we were working together a lot over the last few months. It's been fun.
So Kristen is still in the game?

Oh yes! She's going to take this further than anything we've ever seen her do before, if you can imagine that. I hope I didn't say too much! 
Want more TV? Find MSN TV on Facebook and Twitter.

"Days of Our Lives" airs weekdays on NBC. 
Are you sure you want to delete this comment?