Q&A: Joshua Morrow talks 'Young and the Restless'
Soap star opens up about Jeanne Cooper tribute, Michelle Stafford's exit, Nick's women
"The Young and the Restless" is set to honor Jeanne Cooper (ex-Katherine Chancellor) with a one-hour memorial on Tuesday, May 28. Co-star Joshua Morrow (Nick) opened up to MSN TV about what to expect from the special episode, as well as how the loss has affected everyone on set. Plus, with a paternity storyline hanging over Nick Newman's head, Morrow reflected on the women in Nick's life and how he feels about Michelle Stafford's (Phyllis) exit.
Bing: More about "The Young and the Restless" | Joshua Morrow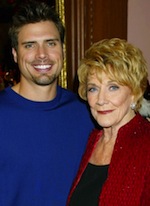 MSN TV: How is life in Genoa City?
Morrow: It's been tough. We lost a special crewmember, Luis Godinez, who was a boom operator and the most positive, happy person you've ever met. Then two weeks later, Jeanne dies. Those were two people who had such a positive and powerful influence on us. There's a definite mood shift. Everyone's focused on getting their work done, but doing it with a lot less smiling.
Jeanne's death had a powerful effect on so many people who didn't even know her. I can't imagine what it's been like on set.
This hit my very hard. We bordered dressing rooms for the last 15 years and I could always hear her over there, dropping F-bombs, screaming and being Jeanne. Now, it's quiet as a ghost town. I'd do anything to hear her one more time through these skinny walls. She was a huge presence. You can truly feel it gone. It's insane. 
Jeanne was so special. It's hard to find adjectives that do her justice. She cussed up a storm and had a real in-your-face attitude, but you could tell she cared about you. I remember when I was 20, 21, I'd come in here sideways. She'd say, "Stop being an ***hole! Get in here, do you job, do it well. Go have fun, but be professional," and she'd say it while she's gazing right into your eyes. I knew this woman cared about me as a person, not as Nick Newman.
What can we expect from Jeanne's tribute on Tuesday?
They put us in little groups. I was with Daniel Goddard (Cane), Billy Miller (Billy), Kristoff St. John (Neil) and Greg Rikaart (Kevin). We got to tell stories about Jeanne - not about Katherine Chancellor, but Jeanne. It was an honor to be a part of it and it was moving, but I didn't want to make it so sad. I wanted people to get an idea that she was this fiery, feisty woman who loved life and lived it to the end. She was a freaking warrior, so we tried to keep it light.
And now the show is losing Michelle Stafford. She's still going to be your buddy, but how are you coping with losing her as a castmate?
Selfishly, I'm very bothered. I'm holding out hope that she comes back so Nick and Phyllis can continue their fiery, difficult love story, but she doesn't see that happening. She badly wants to leave, so I would be doing our friendship a disservice to not wish her luck. I truly wish her well. She's got to be a top three talent I've seen in any medium. She's so freaking good at her job at times it's scary. It's a crucial loss for us. 
There's a handful of people on the show where you think, "How could our show not have this person?" We lost one of them due to her time on this earth, and now we're losing another because she wants to do other stuff. It's a difficult transition. The show's going to be a lot less loud, but not in a good way. 

Michelle's exit sounds like good news to Nick and Sharon fans, who are already riled up by the recent scenes at Cassie's grave. What was it like to shoot another anniversary of Cassie's death?
It's always nice to work with Sharon again. I equate it with putting on this old, comfortable sweatshirt. Nick and Sharon have an incredible history together, and working with Sharon again, we don't miss a beat. You're just right back in there. It's always affective and compelling story.
Plus: 'Bachelorette': Where are they now? | Celebrities playing celebrities | Summer shows we're excited about 

Does Nick belong with Sharon?
It's not about what Joshua Morrow wants: These two characters have this beautiful love story and it deserves an ending. At the end of the day, they probably will find their way back together. Now, I'm not giving any less credit to Nick and Phyllis. Nick and Sharon is supported by Nick and Phyllis, and vice versa. Nick and Phyllis have dealt with a lot of dishonesty, but I still believe they have legs and should find their way back to each other. Whether it's the end game or not, I don't know.

Where does Avery fit into this?
Nick is developing a relationship that, again, comes with so many complications. Obviously, first and foremost, is [her sister] Phyllis. Then you've got Dylan and Nick's ever-present attachment to Phyllis and Sharon. They're having a hard time developing a solid foundation, which seems to be a trend for Nick. Until Nick and Avery answer a lot of questions about themselves and their relationships, there's always going to be doubt and trouble.
The question of Summer's paternity is eating Nick alive. Is he going to open up to anyone?
He's had 18 years of burying this issue and doesn't know how to handle it or how to get help. He's wracked with guilt. He knows he made a horrible mistake. He should have come clean and finished the process of paternity, but it's going to kill him.
This IS a soap, which means we're not expecting the new test to go his way. How will he handle learning that Summer isn't his?

He's going to be devastated. The role he takes most seriously is being a father, and Summer is his daughter. He doesn't care what any paper says. She came along at a time when he was in a dark place and along with Phyllis, really saved his life. He's scared, and it's not just on him. He's very concerned about how Summer is going to handle this. You're also talking about Jack, Sharon, Noah, his own parents, Victoria - this is going to affect everyone.
Want more TV? Find MSN TV on Facebook and Twitter.

In the midst of this, is there anyone on the cast you'd like to share more scenes with?
I'd love to have a big fricking story with Kristoff! He's a very good friend and a tremendous actor. And the new girl, Mellissa Ordway, who plays Abby - I'd like to see her come more into the Newman fold and be less of an outsider. Another sibling for Nick would be fun.
You're such a sports fanatic: Have you thought about doing a podcast or a side gig with ESPN?
One of my true dreams is to do a sports talk radio show and take calls. We could even mix in some current events. I would love to talk to people and let them see my true personality and knowledge. It's a legitimate dream of mine. I have very few, because I love what I do in my life.
Fans have actually gotten to see more of Joshua, recently, especially when you did those videos and chats when Steve Burton (Dylan) joined the cast.
I'm actually working on something right now that will bridge that to my dream. With any luck, in the next month or so, I'll have some content that me and my friend Greg, the audio-video guy upstairs, are working on around here. It will involve a lot of people around here. Assuming we can get the full go-ahead from Sony and CBS, I think people will dig what we're trying to do. It's going to breathe some interesting life in these hallowed halls.
"The Young and the Restless" airs weekdays on CBS.