Boss: 'Today' would be worse without Matt Lauer
Morning show's executive producer says staff loves host, doesn't want him to leave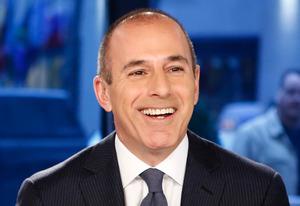 Matt Lauer isn't the most popular guy on TV these days but his "Today" show bosses say he's still loved.
A recent focus group made up of women who watch daytime TV were polled and said they would stop watching "Today" if Lauer were to leave. "Their opinions didn't square with what we had been reading in the papers and on websites," said Don Nash, the morning show's executive producer in a TV Guide interview.
In case you haven't been paying attention, Lauer has received a lot of criticism as of late regarding his role in Ann Curry's firing. Negative attention reached an apex when a New York magazine feature hit newsstands last week and revealed that Lauer not only had a hand in Curry's demise on "Today," but he almost jumped ship and went to ABC. After the article came out, more scuttlebutt surfaced that Lauer bullied CNN's Anderson Cooper when he learned his bosses were courting Anderson as his replacement. Lauer will be with NBC through 2014.
Plus: TV shows that were movies first  | 'Scrubs': Where are they now?
But Nash said "Today" ratings and staff morale would drop even lower -- the show is currently trailing "Good Morning America" -- if Lauer were to take off. "I think it could be much worse without him," Nash said. "I can tell you unequivocally that the staff is not divided over whether Matt should stay or go. This staff loves Matt."
Nash conceded that one of his fellow executives did approach Cooper, who is said to be not interested, but said that doesn't mean Lauer is one his way out. Lauer could become the host of "Jeopardy" when Alex Trebek retires in 2016. "We hope Matt stays forever. But you're always looking for talent because you want the person to grow into the job and you want some time to groom them," Nash said.
While "Today" is still behind "GMA" in the ratings war, numbers for "Today" have started to increase as of late because of Lauer's now less-than-perfect persona. But Nash hopes people are tuning in more because the show is better.
"I'd like to think we've really found our groove," Nash said. "Matt and Savannah (Guthrie) are in a good place, and we're comfortable with the programming. I told my staff, 'The best answer to all this negative press and this whirlwind of criticism is to win.' So each and every day, we're putting on the best morning show that we can."
"Today" airs weekday mornings on NBC.