Snoop Lion pens new 'One Life to Live' theme song
Rap artist will also make appearance in online soap reboot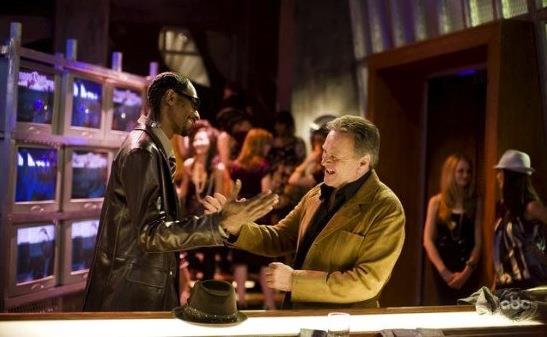 Snoop Lion, who made several cameos on ABC's "One Life to Live" when he was still going by the moniker Snoop Dogg, has signed on to write and produce the new theme song for the soap opera reboot. Snoop Lion will also make appearances on "One Life to Live" to promote his Indie film, "Reincarnation."
Bing: More about "One Life to Live" | Snoop Lion 
With "One Life to Live" relaunching on Hulu and iTunes Monday, April 29, Snoop Lion has penned a new theme song for the serial drama, aptly titled "Brand New Start." Soulful newcomer Iza Lach and Snoop Lion collaborated on the track and both made visits to the show.
Snoop Lion will show up in fictional Llanview to promote his new indie film, "Reincarnated," which documents his journey from Snoop Dogg to Snoop Lion. He was on set Tuesday, April 11 to shoot scenes with Robert S. Woods, Hillary B. Smith, Corbin Bleu, Robert Gorrie and Kelley Missal. Snoop will appear in more than one episode, but there's no drop date for his episodes yet. Iza Lach also appeared on set to shoot the music video for "Brand New Start" on Wednesday, April 10.

Plus: TV shows that ound fake | TV intros
 
"We're thrilled to have the support of such an iconic artist, like Snoop Lion," said Jeff Kwatinetz, Chairman and CEO of Prospect Park. "To have him write and produce the theme song for this series and to have the amazingly talented Iza Lach on board, is just incredible. We are extremely grateful and excited for fans to hear the new theme song and of course catch Snoop Lion in upcoming episodes."
Find more premiere dish on "One Life to Live" and sister show "All My Children" here, including teasers and information on viewing the reboots via Hulu, HuluPlus and iTunes.
"One Life to Live" premieres Monday, April 29, on Hulu and iTunes.

snoop lion? i know bunny wailer didn't want to let him into the deep cultural roots of the rasta. it's a bloodline cultural connection, among many other things, it's not like someone of any color jumping in to the rap groove, this is an age old island trip, this is serious stuff to the remaining wailers, maybe bob would say let him in, who knows? i say the dogg should stick to catchin' a fire on american dank and play any kind of music he wants, it seems that it's the title 'lion' and claiming he's  'reincarnated' and belongs with the original rastas - i could see how any of the remaining wailers would not dig on this

Are you sure you want to delete this comment?