Stars turn out for 2,500th episode of 'Maury'
Barbara Walters, Shaquille O'Neal, Katie Couric, Selena Gomez, Honey Boo Boo and more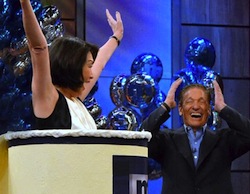 Daytime hosts, notable athletes, sports newsman and reality TV stars turned out to help "Maury" celebrate its 2500th episode, airing Friday, May 17. The landmark episode also caught up with memorable first guests and featured a few surprises for Maury Povich, including his wife Connie Chung jumping out of a cake!
Bing: More about "Maury" | Watch clips and episodes of "Maury"
The guest list for the big "Maury" episode featured Barbara Walters, Shaquille O'Neal, Katie Couric, the ladies of "The Talk," Donald Trump, Joan Rivers, Kathy Griffin, NeNe Leakes, Steve Harvey, Wendy Williams, Jack Hanna, Billy Bush and Kit Hoover, Washington Redskins owner Daniel Snyder, former Washington Redskins quarterback Joe Theismann, "Pardon the Interruption" hosts Tony Kornheiser and Michael Wilbon and fellow NBC Universal talk show hosts Jerry Springer, Steve Wilkos and Trisha Goddard. 
Plus: 'The Bachelorette' Season 9 | What we learned from 'The Office' | 10 reasons to love 'The Mindy Project'
Selena Gomez and Honey Boo Boo also got involved in the celebration via video messages. Gomez had a surprise for a returning guest, while Honey Boo Boo let Povich know that he's not the father. Phew!
"Maury" will also catch up with the guests who started it all, including the guests who took the very first paternity and lie detector tests and the show's first out of control teen.
Want more TV? Find MSN TV on Facebook and Twitter

Povich has more than 2500 reasons to celebrate. "Maury" goes into its landmark episode with 100 consecutive weeks as the #1 syndicated talk show among Women 18-34, Adults 18-34 and Adults 18-49.
"Maury" airs weekdays in syndication.