'True Blood' ups the Camp
Anna Camp set to return for Season 6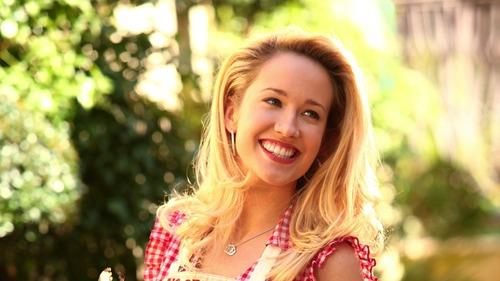 She's a multi-tasker, that Anna Camp.
The versatile actress -- who's currently juggling gigs on both FOX's "The Mindy Project" and CBS's "Vegas" -- is returning to her Southern-fried puritan roots for the sixth season of "True Blood," where she'll be reprising her role as anti-vamp cult leader Sarah Newlin, according to
a report by TVLine.com
.
The character, fans will remember, was wed to the now-fanged cult Fellowship of the Sun founder Steve Newlin, who's since come out as both gay and a vampire. In fact, last we saw him, he was in a full-on relationship with ancient bloodsucker Russell Edgington (who later took off with a vengeance in the finale), and the pair had adopted a were-pup together. If that's not commitment, what is? 
And let's not forget Sarah's own steamy fling with one Jason Stackhouse, who's of late been feeling pretty anti-vamp himself. 
"There's a lot of unfinished business,"
Camp told TVLine.com
earlier this year about the character, before she was scheduled to return. Sarah "is probably pissed," she added. "She wants to come back and make her presence known." And while HBO of course is not revealing their plans for the character's return, Camp had a few ideas of her own. Maybe, she suggested, "Sarah's been holding down the fort at the Fellowship. Maybe she has a baby now. I wish Sarah had a baby. She's very good with children." 
Yup, after all, she handled Jason Stackhouse pretty well.
"True Blood" returns to HBO with all new episodes Sundays at 9 p.m. ET/PT starting June 16.