FEATURED POST
20-year-old poses topless for magazine's March cover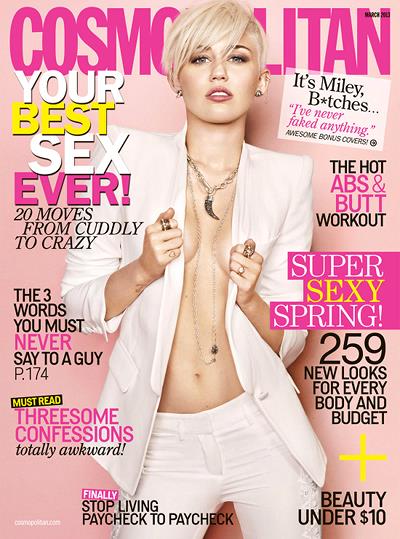 Miley Cyrus
has come a long way from her Disney days of playing Hannah Montana ... so far that the 20-year-old is now dissing the company that launched her career as a pop star.
Bing:
More about Miley Cyrus
|
More about 'Hannah Montana'
Talking about her upcoming album, Cyrus told Cosmopolitan Magazine: "I've never gotten to make a record like this because Disney's always been on my back saying, 'You've got to promote the TV show in two months, so make sure your record's done."
"'And when you promote your record, can you promote the show, the movie, and the 'Hannah Montana' record?'" she said. "I was basically carrying two people's careers and trying to make mine the priority."
The singer went on to say she looks forward to finally being able to promote her new music without "the Disney game of smiling and being a princess."
Cyrus continued: "Number one is my relationship with Liam. That's what I feel the most confident in because you never know; there's so much hype behind my new record, but it could come out and, worst-case scenario, everyone f-ing hates it."
The March issue of Cosmo will be on newsstands Feb. 5.