FEATURED POST
'Good Luck Charlie' star talks about her first album, being a role model and preparing for college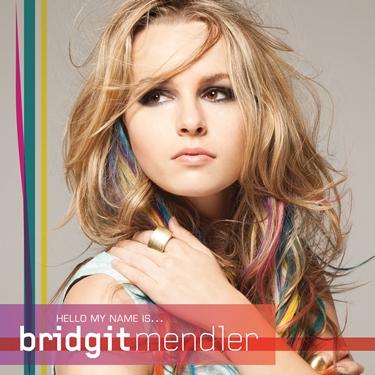 By Lie Shia Ong
MSN Music
You might recognize Bridgit Mendler's name because she's one of the stars of Disney Channel's hit family show "Good Luck Charlie." She also starred — and sang — in the popular Disney Channel original movie "Lemonade Mouth."
Now, the 19-year-old has released her debut album, "Hello My Name Is …," and her first single, "Ready or Not," is already getting airplay on radio stations across the U.S.
Don't worry, parents. Her songs are quite catchy, so it won't be horrible when your child puts her songs on repeat in the car. You might actually find yourself listening to her CD when your kids aren't driving with you.
MSN Music spoke with Mendler about her singing, music writing and also got some scoop about what's coming up on "Good Luck Charlie" this season.
MSN Music: Congratulations on your new album. How does it feel to have your music out?
Bridgit Mendler: It feels really good, actually. We've been gearing this thing up for about the past year, and to have the music out there for everybody to listen to is so exciting. I'm just so excited about the response.
Bing: More about Bridgit Mendler | More about 'Hello My Name Is'
For some of your fans who may not have heard some of the songs yet, how would you describe your sound?
The sound is definitely poppy. I think that's pretty much the base of it, but then we do some R&B, some jazzy sounds, a little bit funky at times.
I saw in another interview you did that you don't really view singing and music as a transition from acting, but it's adding another dimension to who you are.
Yeah. The thing is, I understand that a lot of Disney kids get typecasted in their acting and then their singing. And, yeah, the timing worked out great in that regard, but I've always loved singing, so I feel like it's just another way for my audience to get to know me, and to add to what they already know about me. The music and the songwriting has been around for a while, and it's just such a wonderful thing to be able to share with people now. It's really just a way for people to get to know me better.
When did you know you wanted to sing and write music, and did you have formal training growing up in music?
I didn't have formal training with singing. I had some on-and-off vocal lessons, but pretty infrequent. I took piano lessons. I never took guitar lessons, so I kind of taught myself that, but not very well. I don't really play any instruments at all, but now that I've been doing performances, I do have a vocal coach, and he is amazing.
You wrote your first single, "Ready or Not." What was your inspiration for that song, and what inspires you to write other songs?
"Ready or Not" was inspired — I think I just kind of wanted to write a song where the girl went after the guy. I wanted her to be going after things. I really believe if you want something you should go after it, and so that's what "Ready or Not" is all about. And, yes, it's a relationship story, but I think that we can go inspirational with it, too [laughs].
I think I really got inspired by working with my co-writers on the music and just having people to bounce ideas off of, and sometimes I had to step out of the box I was comfortable with. I'd start singing something and start writing out some lyrics and then we'd be able to brainstorm and come up with, what could this story turn into, and what it could be about. It was fun to get all these unique stories out of the collaborative experience.
Who were the artists and singers you looked up to growing up?
I loved Destiny's Child when I was younger. I loved Britney Spears. Christina Aguilera. Then when I was around 13, I kinda started discovering more music outside of the pop radio stuff. Bob Dylan was a big influence for me. Love Etta James and Ella Fitzgerald. I listened to some other random oldies like Spoon and Squeeze and Van Morrison. And more modern bands that I like: Broken Bells, Red Hot Chili Peppers, Maroon 5. I like Gym Class Heroes. I love leading females like Adele ... and Feist. … It was just fun to broaden all the horizons and be just inspired by all these people with their unique sound.
So I'm guessing you have quite the mix on your iPod!
[Laughs] I'm always so bad at condensing the list!
Do you have a dream duet partner you would just love to record with?
I would love -- it's impossible now, but if I could have ever done a duet with Etta James, that would have been amazing. That would have been so cool.
It's been quite the interesting season on "Good Luck Charlie" with the addition of your new baby brother. What's it been like having a new baby on the set?
It's been really fun. He's really such a sweet little baby. He's always smiling. He's always happy. He's very low-maintenance, so it hasn't been a big drama for us to have him. It's actually just been a joy.
Have you finished taping this season?
We finished taping Season 3, and Season 4 starts taping in January.
Any scoop you can tell the "Good Luck Charlie" fans?
Season 3 has a dramatic season finale where everything in the Duncan's world is turned upside down, so we're looking forward to Season 4, and, honestly, we haven't seen any new material, so we're just excited to see what happens with the following season.
A lot of girls look up to you as a role model. Do you feel any pressure being cast in that light, and do you like having that sort of responsibility?
The responsibility doesn't weigh on me much, but I feel so honored to have the title, and it's always something to take very seriously and to always remember. You do have responsibility to those girls and boys, too, who look up to you. But I feel like it's not so much a pressure to do things in a certain light because I think the number one lesson you can give people is to be themselves. So, I think that should be something that just comes naturally. Besides that, it's the greatest honor that I can possibly get when people tell me that I can be a role model for them because I think it's such a great thing to have people really look up to you.
You're planning on starting college soon. Are you excited to do that?
I am. I'm really excited. I don't know what classes I'm taking yet, so I need to figure that out, but we're going to take things slow and just do one at a time and make sure we get it done.
How do you think you're going to balance having a music career and an acting career and also going to class?
I don't know. I really don't know. We're just going to have to see what happens. [Laughs] My mom is pretty good at juggling a bunch of stuff at once, so hopefully I can do it.
You're doing some radio shows to help promote the album, but are you planning a full-on tour at all?
There's not one on the books right now. We're really looking forward to fan response and that sort of thing, but so far I have a few radio shows coming up this winter. So if people are interested in seeing where I might be, they can check in with their local radio stations to see if I'm going to be on their holiday concert list. But besides that we're getting going with "Good Luck Charlie," so it makes scheduling a little bit more difficult, but we're hoping to make it happen.
Any message you want to send out to your fans?
Thank you, thank you so much for the support. I love you all. I love hearing about what you think of the music, so keep me posted, and I love to meet everybody, so one day we'll all have to try to meet!