'Bunheads' returns with winter premiere
10 things to look forward to with ABC Family hit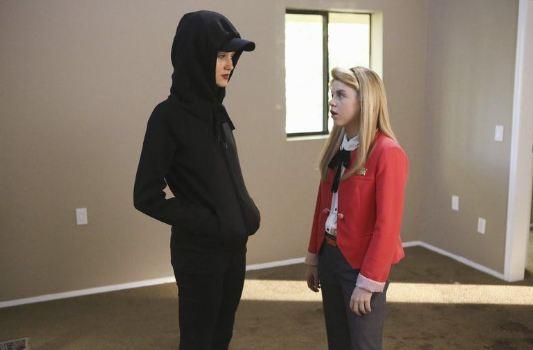 By Minh Nguyen
Special to MSN TV
Get your ballerina slippers ready! MSN TV was recently on the set of ABC Family's hit summer series, "Bunheads" which is set to return with a winter programming block. The show follows Las Vegas showgirl Michelle Simms (Sutton Foster) who marries a man she barely knows and moves to a small town called Paradise, CA. He dies shortly after they marry and she stays in town and befriends a group of ballerina's, the "Bunheads".

Bing: More on 'Bunheads' | More on Sutton Foster
We were able to talk to stars Sutton Foster, Kaitlyn Jenkins (Bettina "Boo" Jordan), Bailey Buntain (Ginny Thompson) and Hunter Foster, Sutton's real-life brother, who will be playing Michelle's brother on the show. We got some great information from the cast about some behind the scenes stuff on set and also what's in store for Michelle, Granny and the Girls in Paradise, CA. "Bunheads" will return on January 7th at 9p.m. ET on ABC Family.
10 interesting facts and reasons to tune-in to "Bunheads":
1. Sutton Foster's real life brother, Hunter Foster, joins the show as Michelle's brother, Scotty Simms. When we asked Hunter to describe his character he said, "I fall in love easily. I get married, I get divorced and then every time I get divorced I show up on Michelle' sdoorstep. And so again, I show up on her doorstep and I crash her place and immediately start looking for wife number 5."
2. Sutton and Hunter Foster Skyped to practice their lines before he came into LA to film. Hunter's sister, Sutton, told him that he needed to know all of his lines and not to come to the set without knowing all of his lines.
3. Liza Weil plays Truly's Sister. If you watch ABC's "Scandal", you'll recognize her as the woman who played White House intern and mistress to the President, Amanda Turner, or if you're a "Gilmore Girls" fan, she played Paris Geller.
4. "So You Think You Can Dance" season five winner, Jeanine Mason, will be joining as a new Bunhead. Sutton Foster told us, "There's an awesome dance when Jeanine is introduced. She does a pretty phenomenal dance. We're doing a production of Sleeping Beauty that the dancers do about three different numbers from. I don't understand how they do what they do and it's so thrilling."
5. The cliffhanger this past season had Michelle possibly leaving Paradise, but we knew she would stick around; after all, there wouldn't be a show without Michelle. Sutton explains, "She's missed. I don't know if she's ever been missed. And I think that what you'll see with Michelle is her finally committing to something. I don't know how permanent. I think in the first 10 episodes she always had one foot out the door, ready to jump at a moment's notice and I think now she's like, maybe there's something of real value here. Maybe I can mean something here."
6. Julia Goldani Telles (who plays Sasha Torres) is obsessed with Taylor Swift.
7. Fanny and Michelle will become more of a team. Sutton explains, "I don't know if they will ever be holding hands and skipping down the street together. They will always have that sparring thing, 'cause that's what makes them so fun but I do think they begin to work together. And that's been really nice to see that side of them. We'll see, until Michelle probably inevitably messes up again."
8. Bailey Buntain told us her character, Ginny Thompson, will be helping out with her mother's real estate business saying "You know, it's really dependent on how long her mom is in crazy town. And it looks like she's there for a while. So she's going to be pulling her weight in the family for a good bit but I think it's good. I think it also kind of distracts her from what's going on. It gives her something to do and focus on. I don't know if she'd admit that though."
9. Kaitlyn Jenkins told us Boo "has a big family and lots of brothers and so it's going to be very hectic when the baby arrives. But the baby hasn't come yet. It definitely starts to takeover Boo's life and it starts to affect her relationship with Carl a little bit and definitely with the other girls."
10. The girls rehearse for their dance scenes constantly. Baily Buntain remarked about one of their upcoming dance scenes, "The choreography was insane and we rehearsed them all day, for days. Our rehearsal was like Noon to 8:00 Saturday. Noon to 8:00 Sunday. Then we filmed it Monday and Tuesday. Our feet were hideous and cut open and really gross. I'll stop there. I Instagramed it. It was like..., ballet war wounds!"

"Bunheads" airs Mondays at 9 p.m. ET/PT on ABC Family
.