Chrishell Stause gets serious on 'Days of Our Lives'
Soap beauty goes plain Jane to play Rafe's new physical therapist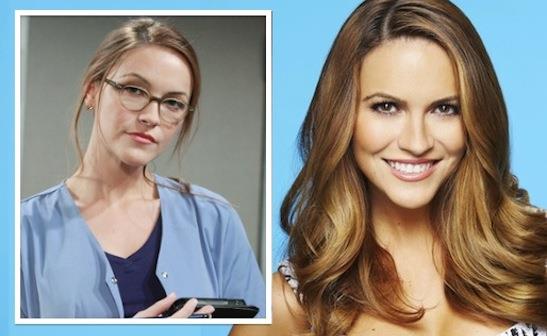 Soap opera fans assumed "All My Children" beauty Chrishell Stause would bring some glamour to "Days of Our Lives." Not gonna happen! Her character Jordan Ridgeway, who hits the Salem on Thursday, Aug. 15, is a hard-working duckling just begging for a makeover. Looks aren't everything, of course: Jordan could still come between Rafe and Kate.
Bing: More on 'Days of Our Lives' | Chrishell Stause
The secrecy surrounding Stause's new character is over! Kate (Lauren Koslow) thinks she's hired a man to care for her friend with benefits Rafe (Galen Gering) and won't thrilled when Jordan turns out to be a woman, according to a recent interview with Stause. Once Kate recognizes how little interest the no-nonsense physical therapist has in her appearance, she may let her guard down. That doesn't sound like a good idea.
"[Jordan is] going to come in strictly as Rafe's physical therapist and you're just going to see more happen, slowly. She has a few secrets, obviously, but as of now they're in the closet," Stause told TVLine. "She takes her job very seriously, she's very no-nonsense. She's not there to humor anyone. In fact, she comes across robotic at first."
More: See the cast of 'Duck Dynasty' | TV's rising young stars | Breaking down 'Breaking Bad'


Rafe will take the robo-therapist's attitude as a challenge.
"At first he is a little thrown off that she's so impersonal," Stause continued. "And then he kind of sees it as a game, trying to get into her head and figure out who she is. He's got a fun-loving side, so he keeps trying to get past the closed-off wall she has up, and he gets shut down quite a few times. But eventually... you see him slowly break her down."
A makeover seems imminent, but it won't happen any time soon. Until then, Stause seems to be enjoying her time getting down and dirty.
"You have to check your vanity at the door -- and your eyeliner," Stause said. "They frisk you and make sure you're not hiding any mascara. My character wears literally almost no makeup… I try not to look into mirrors! [Laughs] No, it's actually been fun just because I've never played a character like this. Amanda [on "All My Children"] of course was a glamazon, and anything else that I've played has always kind of been in that lane. Here I get to branch out and do something totally different and actually not have to worry about going to the gym all the time because all my elastic waist pants are, like, really big on me."
Want more TV? Follow MSN TV on Facebook and Twitter.

"Days of Our Lives" airs weekdays on NBC. 
(Photos from original TVLine story.)