Corbin Bernsen talks Katherine Chancellor's memorial
Jeanne Cooper's son helps 'The Young and the Restless' say goodbye to its matriach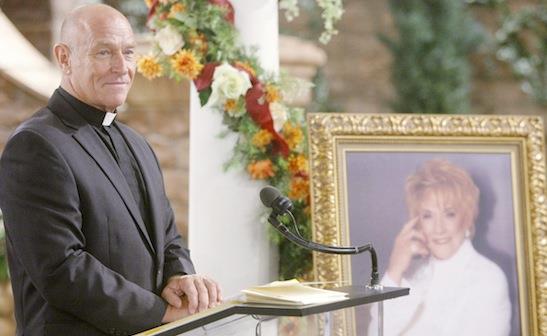 Almost four months after Jeanne Cooper's passing, "The Young and the Restless" has begun to say goodbye to her beloved character, Katherine Chancellor. Cooper's son Corbin Bernsen ("Psych," "The Glades") opened up to MSN TV, exclusively, about his mother's passing and what it was like to preside over Katherine's upcoming memorial service.
Bing: More about "The Young and the Restless" | Corbin Bernsen | Jeanne Cooper 
Genoa City comes together for Katherine's memorial on "The Young and the Restless" Tuesday, Sept. 3 and Wednesday, Sept. 4. Christine (Lauralee Bell), Nina (Tricia Cast), Brock (Beau Kazer), Amber (Adrienne Frantz), Gina (Patty Weaver) and Danny Romalotti (Michael Damian) return to the fold for the celebration; along with Paul's brother, Father Todd (Bernsen). When MSN TV caught up with Bernsen in July, he'd just wrapped his two days with the CBS soap and was driving down to San Diego's Comic-con to hang out with "Psych" fans. Here's what he had to say about it all. 
MSN TV: How are you doing these days?
Bernsen: Pretty well. Gosh, this memorial service for Katherine. I talked to [executive producer] Jill Phelps about doing this right after her passing and said "Yes, absolutely." As it got closer, I was a little hesitant, but it was rather cathartic. There's lots of pieces of closure and it's not a simple passing. My Mom was a celebrity and a public person. At times, that makes it easier. I've had this enormous outpouring of love and support from fans and in the past two days, over at the show. There's another whole family over there. At the same time, it sort of prolongs it. You've had your personal moments and kind of want life to slip back into place, and then you're reminded again. It's been odd, to say the least.
In Genoa City, the loss of Katherine is still fresh. Was it hard to go back to that emotional beginning?
I'm playing a fictitious character, but then there's real pictures of her. That's Katherine Chancellor, but it's really my mother. I don't know that anyone's brain can quite process that. As I read the script, I thought, "What have I stepped into? I'm right back in it." But she would love this. The son of an actress, who plays a priest on her show anyway, gives the memorial service for her fictitious character. I don't think that's ever been done before. 
What can we expect from the memorial?
We had the tribute, where we talked personally about Jeanne Cooper, the actress. This is for the fans of Katherine. It's been 40 years, so they deserve a certain amount of closure with their character. It was an important thing to do, and it was an exquisite set. They created a park where the memorial service takes place and it literally takes up half the stage. It's fitting that it would take up half a stage when half of her life was spent doing the show there.
Will we need our tissue boxes?
I would think so, but it's not done in a manipulative way. One of the notes to all of us was, "This is a celebration," which may have come out of what I requested at her real memorial. My mom would not want this to linger in that sad zone. The tissues are going to come from people's personal connections. It's a culmination of the 40 years. When you see the memorial and see her son playing Father Todd, you'll be touched. My mom crossed that line all the time, like with her face-lift. We're carrying on that tradition, which she'd be happy about.
I can't imagine what it was like on set during shooting.
They were long days, because we have these beautiful moments. The pace might be a little slow. It's not, "You stole my baby!" But there are a few wonderful surprises. I know my mom was smiling down and thinking, "That's interesting."
Did clocking in at "The Young and the Restless" feel like going to work?
There is business - hit your marks, say your lines, get it right. But so much of what happened is fueled by reality. Father Todd reads a poem that the show wrote and I couldn't quite make it through the first part, which talked about how she'll live on through us. I had to stop, because that became very personal. Father Todd doesn't really have a relationship with Katherine, so it's not even appropriate for me to be emotional!
That was also strange. Father Todd is the guy holding it together when everyone else breaks down, so I had to keep it together and be the tranquil voice of reason. I found a strange peace, being that person. It might be a Band-Aid or temporary salve, but it's brought me some calm.
I have to thank you for letting fans be involved in your mother's passing, via social media. I'm sure it wasn't always easy for you, but it was special for us.
I've actually taken a bit of a break from that. The Facebook posting was allowing me to avoid touching the fear and all the other stuff. Writing is a wonderful way of pushing away that which wants to be dealt with. You think you're dealing with it, but there's nothing like putting down the pen, being quiet and reflecting.
I'm not sure you're going to find that "quiet" at Comic-con.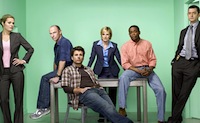 No. That will be a complete escape. (laughs) Some noise is okay. "Psych" is huge there, and I get to enjoy the ride. I don't have to carry it much. It's about James Roday (Shawn), Dule Hill (Gus), Maggie Lawson (Jules) and Tim Omundsom (Lassiter), who work their butts off. I'm kind of the Ringo.
Would you want to be back in the center of a show, like you were on "L.A. Law"?
I have a yearning to dig into something. I try to make my own movies, go off to do "The Glades," pop into "The Young and the Restless" and deal with life, my mother and four children. It's a busy life, but if I were to get so lucky, I am ready. I'd love to be the center of the wheel, energizing the way the hub turns, as apposed to being an important but incidental spoke. Like William Shatner with Jimmy Spader in "Boston Legal." I also have this yearning to go on stage and dare to do something I've never done before.
By the way, that could be at "The Young and the Restless." I've always felt like I was visiting my mom's house when I was there. Today, there was a shift. I found my own place. I can't take my mother's place or become the patriarch, but I discussed an idea for Father Todd with them -- a very succinct story that could last three months or a year. It's something I want to explore, on a personal level. It could be interesting, so we're talking about that.
Do you have a final message for fans before I let you go? 
I want to thank all the people who have given my mother love. It's not even from me. It's from her. And I'll say what I said to the cast and producers of the show before I left today: This door's closed and we closed it brilliantly, but new doors open. Seize the moment. Create a new chapter. It's time. 
Are you enjoying the way the show is handling Katherine Chancellor's passing, so far? Weigh in below or on MSN TV's Facebook and Twitter pages.

(Episodic photo courtesy of JPI)
"The Young and the Restless" airs weekdays on CBS.

I loved the way the show handled the services for Katherine's (Jeanne Cooper's) passing.  As someone who has watched the show from it's very beginning in 1973, I was please that Katherine was honored in such a touching ceremony.  The cast, crew, writers and especially Corbin Benson truly blessed the fans in allowing us to be part of her amazing life and also in allowing us to grieve for her.  Jeanne Cooper and Mrs. C will definitely be missed.  She was a wonderful lady.
Are you sure you want to delete this comment?