Q&A: Jen Lilley of 'Days of Our Lives' gets feisty
Salem's Theresa Donovan is clearly trouble, but is she dangerous?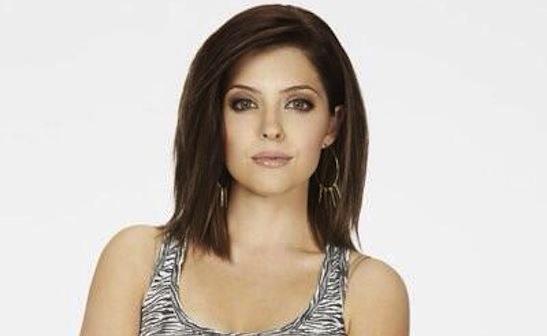 Since "Days of Our Lives" prodigal daughter Theresa (Jeannie) Donovan has come home, she's proven to be a young lady with serious attitude. Jennifer's assistant is trouble with a capitol T, and now she's eyeing Dr. Dan! Jen Lilley (Theresa) considers her character's past and future and opens up about getting to create a new role from scratch after her one-year stint as a temporary recast on "General Hospital."
Bing: More about "Days of Our Lives" | Jen Lilley  
Kimberly Brady (Patsy Pease) thought some time with family would ground her wild child of a daughter. That doesn't seem to be panning out. Theresa, who never really knew her father Shane Donovan (Charles Shaughnessy), clearly takes pleasure in torturing authority figures like Jenn as much as she enjoys getting high and teasing young JJ. And it sounds like things are only going to get worse.
Plus: Why your children should watch TV | Tracking Disney star careers | 2013 Primetime Emmy nominees
MSN TV: How is life in Salem?
Jen Lilley: I'm having so much fun over at "Days of Our Lives." I never want to leave!
Your casting and this role were shrouded in so much mystery and secrecy. What was that like for you?
It was super hard to keep my mouth shut, because I was having so much fun on set and this character is so delectable. Theresa is so layered. She's so evil, but at the same time, she has a reason to be evil. When Greg Vaughan (Eric) spilled the beans, I was actually relieved. I have all these fans that were so amazing on Twitter. They were like, "We're praying for you to get another role and we're writing the studios." I felt horrible that I could say, "You don't have to do that! I have a job."
Since finally hitting the canvas at the beginning of July, Salem's new bad girl has become a hit with fans.

I'm so shocked! And so relieved. I thought everyone was going to hate her. 
What is her damage? Is she more than just a spoiled party girl?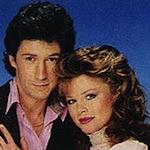 There's definitely more to the story. Part of me doesn't want to make excuses for her, because you can have horrible upbringing and make something positive of it. Some of the most amazing, well-grounded people have come from the wrong side of the tracks. Obviously, the Brady-Donovan family is a great family, but her dad Shane is a spy and I watched the episode where he leaves the kids with Kimberly. Theresa was probably one, at most, so she didn't have a dad growing up, which is a formula for trouble. Typical psychological path for a girl like that is to look for love in the wrong places and look for a father figure in older guys.
And I think she knows her mom was a prostitute. Even though Kimberly cleaned up her act and became a child psychologist, it's got to be hard knowing your mom, who's trying to bring you up right and saying you're going to ruin the 'great Brady name,' was a prostitute!
Where does Theresa lie on that fine line between troubled and dangerous?

I don't know yet. I'm just starting to get into scenes where I'm like, "Holy Moly! This character is something else." I'm still learning. I've got some scripts here in my dressing and I can't want to see where this is going. I love the writers, because I never know what's going to happen.
If you could give Theresa a piece of advice, what would it be?
Crank up the heat. Keep going. I love it! She cannot get evil enough for me.
What if she was one of your girlfriends?
I'd say, "Honey, go to rehab!" And I would drive her there.
Viewers are anxious to see Theresa find a romantic interest: Who would you like to see her paired with?
Right now, I'm all about Dr. Dan. Shawn Christian (Daniel) is a fine specimen of a man! It would also be interesting if she got with Cameron or whoever Abby's love interest is. If she's going to be messing with JJ and Jennifer, why not Abby too? She should mix it up with the whole Horton family! There are no unattractive men here: I'm game for whatever. I just hope I don't have to sleep with Victor Kiriakis. That's kind of a hazing initiation into the Donavan-Brady sorority. Everybody's slept with Victor! 
Theresa's started eyeing Daniel, already. How will Jennifer's relationship with him play into that attraction?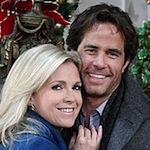 It's going to be fun, is all I can say. I've had a blast with Missy [Reeves (Jennifer)] and I do think Jennifer's relationship with Daniel makes him more attractive. It motivates her to crank it up a notch. Theresa never wants to do what people say, even if that's what she originally wanted to do. If she wanted to file forms for some reason and then Jenn asked her to file them, she'd be like, "Never mind. I'm going to file my nails instead."
Is your former costar Scott Reeves (ex-Steven, "General Hospital") giving you any trouble for the way you're treating his real life wife?
He's not! Oh my gosh, the Reeves family is just the sweetest, kindest, most generous family you could ever meet. I love them so much and I love being mean to Missy. Missy and I are cut from the same cloth. We have a similar moral and religious viewpoint. I'm always saying, "If I have to be mean to anyone, I'm glad it's you, because you know that off screen, I don't mean a thing that's coming out of Theresa's mouth!"

Poor JJ, meanwhile, thinks he's such a tough guy.
(laughs) Yes!
But he's clearly out of his league with Theresa. Should we be worried for him?
I don't know exactly where the writers are going yet, but yes, in the long run, you should be. At the same time, I do think that Theresa relates to JJ. They come from a similar background and struggle with the same issues. She cares for him, but not in a sexual way. I don't know if I'm putting this spin on it because Casey Moss (JJ) looks exactly like my biological little brother, Ryan, but part of her sees him as a little brother.
What about Nick? Blake Berris (Nick) twitter teased some "Theresa/Nick" action on Tuesday, July 30. What can we expect for those two?
I wish you could expect more! Just expect to laugh a lot. Blake is amazing. I'm so happy I got to work with him and hope to get to work him more. I think that guy is an Oscar winner in the making.
Playing a recast in daytime is infamously tough. After standing in for Kirsten Storms (Maxie) at "General Hospital" for almost a year, how has it been to create your own role from the start?
Ugh, it's such a blessing. I feel like I'm finally part of something. On "General Hospital," I had two bleeding ulcers because I was so stressed out. I never knew what was going to happen, day in and day out. I can finally relax a bit.
Before I let you go, what's the story on your web series, "Dating in L.A."?
It's super funny. Anybody who lives in L.A. - and even people who don't  - will relate [to this show about dating in] the electronic age, with all the eHarmony and the struggle of, "How the heck to I meet people?" It's hysterical. There are so many lines I'm glad I don't have to say. They talk about vajazzling and all these horrible things that happen in L.A.. I'm like, "Oh my goodness!" It's a lot of fun and it's very blunt comedy. I appreciate it. I totally play the Meg Ryan character on that show. I give the horrible, optimistic advice. Right now, they're working on funding and pilots are always complicated, so I don't know when it's going to premiere.
Want more TV? Follow MSN TV on Facebook and Twitter.
"Days of Our Lives" airs weekdays on NBC.