'Ellen' Season 11 premiere week preview
DeGeneres welcomes Leah Remini, Simon Cowell, Celine Dion, Andy Samberg and more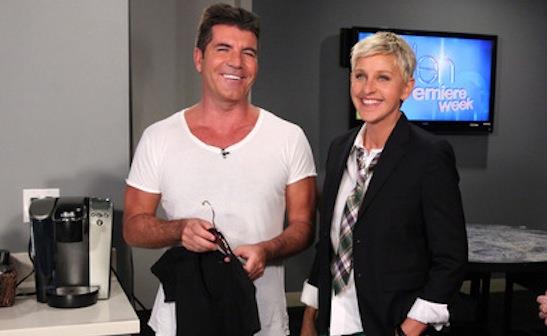 Ellen DeGeneres kicks off her 11th season in daytime with a massive giveaway and an exclusive chat with former Scientologist Leah Remini on Monday, Sept. 9. The rest of "Ellen" Season 11 premiere week brings Simon Cowell, Kelly Rowland, Celine Dion, Ray Romano, Jennifer Nettles, Amber Riley, Andy Samberg, Mel B. and the WWE's Fred Rosser (aka Darren Young) to daytime.

Bing: More about "Ellen" | Watch clips and full episodes of 'Ellen'
Ellen DeGeneres sits down with the WWE's first openly gay wrestler and stars from "The X Factor," "Parenthood," "Glee," "Brooklyn Nine-Nine" and "America's Got Talent." Plus, Celine Dion chats and performs, and "Ellen" drops its biggest giveaway yet on a community in need.
More: Meet the new teams of 'The Amazing Race' | International remakes for fall TV | Best of 'Real Housewives of Orange County' 
"Ellen" premiere week schedule:
Monday, Sept. 9: Exclusive television interview with Leah Remini
Tuesday, Sept. 10: Interview with Simon Cowell, who will then be joined by fellow "X Factor" judge Kelly Rowland
Wednesday, Sept. 11: Daytime exclusive interview and performance by Celine Dion, who performs her new single "Loved Me Back To Life" from her upcoming CD of the same title. Plus, 13-year-old Sam Horowitz from Dallas, Texas, chats about how the video of his grand entrance to his Bar Mitzvah became a viral sensation.
Thursday, Sept. 12: Ray Romano ("Parenthood"), Amber Riley ("Glee"); Jennifer Nettles performs  "That Girl" from her upcoming solo debut CD
Friday, Sept. 13: Andy Samberg ("Brooklyn Nine-Nine"); Mel B ("America's Got Talent"); WWE wrestler Fred Rosser (Darren Young), who made national news when he came out as the first openly gay professional wrestler.  
Want more TV? Follow MSN TV on Facebook and Twitter.

"Ellen" airs weekdays in syndication. 
Are you sure you want to delete this comment?