James Franco's Comedy Central Roast won't die
The raucous ribbing lives on via web clips, lists and stories. But did things go too far?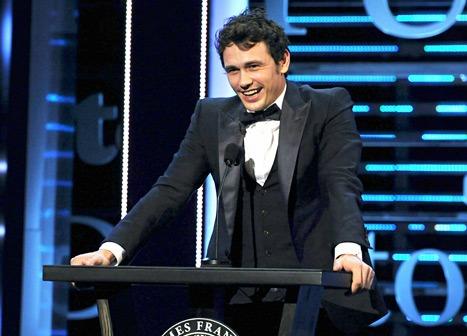 There isn't enough time in the day to watch all the highlight clips from the "Comedy Central Roast of James Franco." Did we mention the roast, which aired Monday night, also birthed an endless array of stories and best of lists?
But, hey when laughter is on the menu, who can say no, especially after a long holiday weekend? Sadly, many of the clips -- which feature a lot of curse words and raunchy sex humor -- are too risqué to include in this post. You'll have to go to other sites for those. But Franco's potty mouth roasters -- who roasted him and each other -- paid off for Comedy Central. The special pulled in 3.1 million viewers.
Bing: More on the 'Comedy Central Roast of James Franco' |  James Franco
Roasters included Seth Rogen, Jonah Hill, Nick Kroll, Sarah Silverman, Bill Hader as the President of Hollywood, Jeffrey Ross with cornrows, and Andy Samberg. Speaking of Samberg, many declared him the best lampooner because he parodied roasts, much the way Norm MacDonald did five years ago during Comedy Central's Bob Saget roast.
Plus: Why Neil Patrick Harris is host with the most | Police procedurals for fall TV | Meet the new teams of 'The Amazing Race'
Samberg's bit was especially refreshing because most of the jabs taken at Franco were about his sexuality and the rumors about him being gay. Aziz Ansari also poked fun at all the anti-gay digs. "So many gay jokes tonight about Franco," Ansari said. "Apparently if you're clean, well dressed and mildly cultured, you're super gay now. Is that why the rest of you guys are so aggressively fat and dirty? You think if you read one book and take a shower, d---- are going to just fly into your face?"
There was also a ton of material about Franco's shoddy job hosting the Academy Awards a few years ago, how annoying his Oscars co-host Anne Hathaway is, and the actor's stint on "General Hospital."
What did you think of the Franco roast? Funny stuff or too many homophobic jokes? Weigh in below or on MSN TV's Facebook and Twitter pages.
The "Comedy Central Roast of James Franco" will re-air Thursday, Sept. 5, at 9:30 p.m. ET/6:30 p.m. PT on Comedy Central.