Soap opera casting buzz: Who's coming and going?
The latest on Alison Sweeney, Kelly Sullivan, William Devry, James Franco and more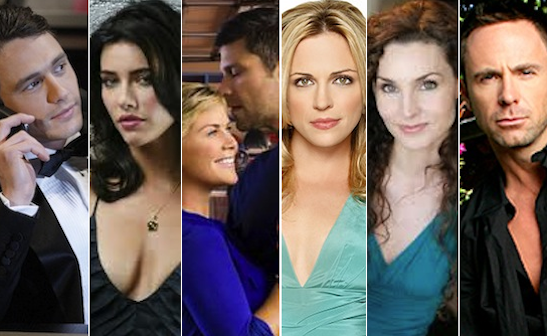 It's hard to keep up with all the casting updates for "The Young and the Restless," "The Bold and the Beautiful," "Days of Our Lives" and "General Hospital." Here's a roundup on who's coming and going on each of the big four soap operas as of July 11, as well as some updates from the online soap world. 
Bing: More about "Young and the Restless" | 'Bold and the Beautiful' | "General Hospital" | "Days of Our Lives"
Get the story on how to watch James Franco's documentary on his stint in daytime, Kelly Sullivan's exit, William Devry's new gig and why onscreen twins Alison Sweeney and Greg Vaughan are getting romantic. Plus, which show added telenovela star Andy Zuno to the canvas and who's been snapping up "All My Children," "Guiding Light," "As the World Turns" and "General Hospital" alumni? 
Plus: Strange Syfy movie titles | Best campgrounds on TV | Animal-nicknamed actors and characters
"The Young and the Restless"

Leslie Stevens (ex-Justine Calvert, "Search For Tomorrow") is getting into the drama on "The Young and the Restless" Thursday, July 25. Word is she's playing Rose, the mysterious woman involved with Leslie and Tyler's dad, Gus, and may hold the answer to the mystery regarding the online blogger targeting Neil.
Before Michelle Stafford's (Phyllis) makes her big exit in August, onscreen son Michael Graziadei (Daniel), last seen in January, will return. Daniel will be back for four episodes beginning Tuesday, July 30.
"The Bold and the Beautiful"

There are a lot of folks popping back in for visits on "The Bold and the Beautiful."
Jacqueline MacInnes Wood's Steffy will return for some Parisian drama on Thursday, July 11, and Friday, July 12.
As previously reported, Rena Sofer arrives Friday, July 12, as Wyatt's mother, Quinn, a jewelry designer who has been keeping a dark secret for some time. 
Tuesday, July 16 will bring back a lot of familiar faces. Joanna Johnson and Crystal Chappell will be on-hand as Caroline's moms Karen and Danielle, respectively. Aaron D. Spears (Justin), Theodora Greece (Alison) and Andy Zuno (Rafael) also return for the episode.

Telenovela fans may have already noticed Andy Zuno ("Al Diablo con Los Guapos") on "The Bold and the Beautiful." His recurring character Rafael showed up on canvas June 20 and will be involved in big summer story. Zuno will also translate his own character into Spanish for the show's SAP simulcasts. 
"Andy is a talented young actor and is a great addition to our cast," said Executive Producer and Head Writer Bradley P. Bell. "He brings forward a strong comedic talent that plays perfectly into the hot and ground-breaking story we will begin telling this summer."

"Days of Our Lives"

A bit more info has come out about Chrishell Stause's mysterious character on "Days of Our Lives." The newcomer is named Jordan and will debut in mid-August.
Alison Sweeney and Greg Vaughan are still playing the Brady twins on "Days of Our Lives," but their also getting romantic in Hallmark Channel's "Second Chances," premiering July 27.
"It's a nice little romantic comedy," Vaughan told MSN TV. "She's a 911 operator: I'm a fireman. We communicate a lot. It's a fun ride."
"Thankfully, we did the movie before Greg came to set, so we were able to play that romance out before talking about being siblings," Sweeney (Sami) added during out chat back in January. 
Vaughan actually got news of the Hallmark gig just days after testing for his current gig as Father Eric.
"We were excited about what was to come [at "Days of Our Lives"], but we really focused on the movie," Vaughan said. "It was a new challenge for Ali to step out of her comfort zone. It was nice to see that transform and see what we created. We had so much fun. It was like a warm up before I came into Salem. Then when we got to work [at "Days"] and she started punching me, pushing me and hitting me, it was like, 'We're in a whole 'nother world now!' It's night and day."
"General Hospital"

Kelly Sullivan will wrap her run as Kate/Connie, but the magazine will be in good - or deliciously evil? - hands. William Devry (ex-Michael Cambias, "All My Children"; ex-Storm Forrester, "The Bold and the Beautiful") has signed on to "General Hospital" as Connie's boss and will arrive on canvas July 30.
Sullivan's news broke first and the Daytime Emmy-nominated actress took to Facebook to make sure fans knew there were no hard feelings.
"Thank you all so much for your support and loyalty," Sullivan posted June 27. "You are my life long family and I cannot express how much I appreciate each of you. You have really made my experience here on GH a wonderful adventure. I wanted to fill you all in on the details and try to answer some of your questions. I am not returning to GH after August. This is not a contract issue, I have been written off the show… I have no ill feelings towards any of the staff or crew connected to the show or the network. I will miss everyone dearly."
Co-star Maurice Benard (Sonny) responded via twitter. "This is all I'm gonna say, when an actress w that kind of ability & talent leaves the show it hurts," he posted. 
With Sullivan's Connie on her way out, Devry has already clocked in as her boss.
"Finally!!! I just got word I can tell you I just finished my first day of work on General Hospital," Devry posted July 8. "It is a contract role. Very rare these days indeed. And I come to town as the character of Derek Wells. Derek has an agenda, let me tell ya!!! First air date is July 30th. Very excited to finally be able to say it out loud!!!"
Devry shot his first scene with Maura West (Ava) and sources revealed "there's much more" to the Derek than his job at Crimson.
In other "General Hospital" news, James Franco's (ex-Franco) 90-minute documentary on his time with the show, "Francophrenia," will be available via Comedy Central's digital and VOD platforms immediately following Franco's upcoming roast, which is airing on Labor Day.
"All My Children" and "One Life to Live"

No big casting news coming from the online soaps, aside from Alicia Minshew's cameo on "All My Children" this week. 
That said, don't miss OWN's summer fling with "All My Children" and "One Life to Live," kicking off Monday, July 15.
"Tainted Dreams"

A new scripted dramedy made for soap opera fans is set to go into production in late July. "Tainted Dreams" boasts a star-studded soap cast and will take viewers behind the scenes of a faux 32-year-old soap, following the lives of the cast, crew and network executives involved.
"[Sonia Blangiardo] was a producer at "All My Children" and she wrote this series," Alicia Minshew said. "It's based on a behind the scenes look at soaps, and I actually play her. It's a fun story.  It's a great cast. There's some reality stars, there's some soap stars, there's some theater stars. It's just a nice mix of what happens behind the scenes."
"Tainted Dreams" is still casting, but the line up already includes "All My Children" alums Alicia Minshew, Terri Ivens, Walt Willey and Michael Lowry; "Guiding Light" alum Grant Aleksander; "As the World Turns" alums Kelley Menighan Hensley, Marnie Schulenburg, Colleen Zenk and Austin Peck and "General Hospital" alum Natalia Livingston.
Dina Manzo ("Real Housewives of New Jersey"), Anthony Wilkinson ("My Big Gay Italian Wedding"), Lisa Marie Varon ("Impact Wrestling") and Jessie "Mr. PEC-Tacular" Godderz ("Impact Wrestling," "Big Brother") are also involved.
Producers have launched a contest, giving fans a chance to be an extra during taping. Entries must be submitted by 5 p.m. on Sunday, July 21. Two winners will be selected to join filming in New York City on August 6.
Don't see casting news you've been hearing or wondering about? Check out our last update.
Want more TV? Follow MSN TV on Facebook and Twitter 


Well, I'm quite disppointed wit hthe turn GH has taken all of the sudden. I was thoroughly enjoying the focus on established characters and the newbies brought in to build on those storylines ( which is what has kept Y&R on top for the last two decades), but now I can go an entire episode and see two recognizable faces.  Two or three new characters introduced at the same time is interesting - we have six new characters on the canvas presently while Connie is written off and Carly is relegated to Greek chorus. I'm not liking this.

I can't wait for All My Children to come onto the OWN.  I watched it for over 20 years, and the writing was horrible, the plots were stupid and it never measured up to the other soaps, yet I was still watching it.  I haven't missed it since it was pulled from the tv, but I'll start watching it again now that it'll be on OWN.  I watched an interview with Susan Lucci, who said she's doing Devious Maids and would like to make a spot appearance on AMC but hasn't been asked yet.  I can't even imagine AMC without her.  I won't pay for it on Hulu but I will watch in on the DVR so I can fast forward through the most stupid parts.  I'm hooked.  It's a crap soap, but I am hooked.
Are you sure you want to delete this comment?