Miss America Pageant to see first tattoo on the catwalk
Miss Kansas, Sgt. Theresa Vail, to reveal her ink during competition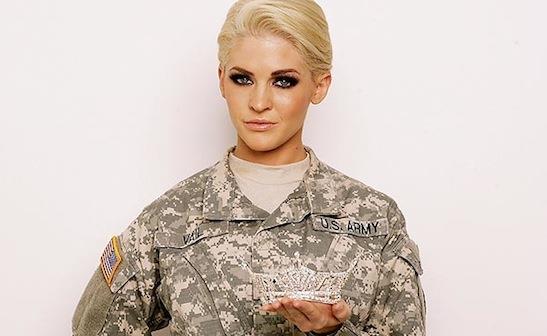 The Miss America pageant airs Sunday, Sept. 15, but the preliminary competitions started Sept. 9 and one badass beauty is already making news. Miss Kansas, Sgt. Theresa Vail, is going where no contestant has gone before by refusing to hide her two giant tattoos during the bikini walk. Plus, MSN TV has Vail's Miss America video promo. 
Bing: More about Miss America 2014 | Theresa Vail 

"Why am I choosing to [bare] my tattoos?" Vail said in a recent interview. "My whole platform is empowering women to overcome stereotypes and break barriers. What a hypocrite I would be if I covered my ink. How can I tell other women to be fearless and true to themselves if I can't do the same? I am who I am, tattoos and all." 
Plus: Meet the 2014 Miss America contestants | Best of basic cable and network television | 50 things you don't know about the Emmys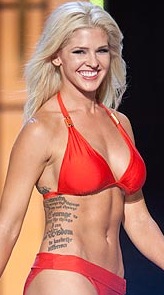 Kansas Army National Guard Sergeant Vail boasts the insignia for the U.S. Army Dental Corps on her left shoulder and has the Serenity Prayer running down her entire right side. A newbie to the pageant circuit, Vail is a senior at Kansas State University, majoring in Chinese and chemistry; an expert M16 marksman; a bow hunter; a skydiver; a boxer; a mechanic and former motorcycle racer.
Bullied as a child, Vail found her way through a tough time after a hunting trip with her father, according to the story.
"My passion is empowering girls through male-dominated outdoor sports," she revealed. "I want to help them develop confidence, to let them know that they have what it takes to accomplish anything they want to accomplish. I know many young girls look at beauty candidates and think, 'What a perfect life they have.' But I want them to know that I haven't led a perfect life. And that beauty comes from the inside."
Vail got into the pageant game nine months ago, on the suggestion of her commanding officer. When Vail learned 48 hours before the Miss Kansas pageant that she couldn't shoot arrows as a talent, she threw herself into preparing to perform opera -- and managed to win the silver tray in the Miss Kansas pageant!
"I'd never sung opera in my life," Vail said. "I had an appreciation for it and I sang soprano in choir back in high school, but I hadn't sung since then and certainly never opera." 

The 2014 Miss America Competition preliminary contests began Tuesday in Atlantic City and the Vail didn't take a win for her tattooed bikini walk or her talent. Miss New Hampshire, Samantha Russo, was named Talent winner for her vocal performance of "Don't Rain On My Parade"; while Miss Mississippi, Chelsea Rick, was the preliminary Lifestyle and Fitness winner in a black and gold Catalina swimsuit.
That doesn't mean Vail is out of the Miss America game and while she hasn't won anything yet, between her tattoo and her badass story, the sergeant is getting all the press -- and with reason! She sounds like quite a woman. 
During Sunday's broadcast, one Miss American contestant will also be crowned America's Choice. Voting is open through 11:59 pm EST on Sept. 12, 2013. Here's Vail's America's Choice promo. 
Do you think tattoos should remain taboo at the Miss America Pageant? Weigh in below or on MSN TV's Facebook and Twitter pages. 

Miss America airs live Sunday, Sept. 15 at 9 p.m. ET on ABC.