Paula Abdul and Arsenio Hall reunite on his new show
Former '90s stars take a touching trip down memory lane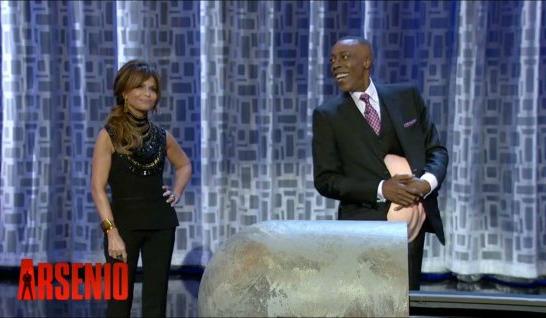 Arsenio Hall and Paula Abdul were so cool in the 1990s. Remember that?
Both the former pop star and the late-night jokester tapped into their glories of yore when Abdul made a surprise appearance on "The Arsenio Hall Show" during its Monday night debut. Although Hall, 57, started the segment pretending to discover Abdul's prosthetic butt in a time capsule with Abdul popping up and feigning anger, the bit ended on a touching note. 
Bing: More on 'The Arsenio Hall Show' | Arsenio Hall | Paula Abdul
"I just want to tell you, watching back there, there are so many things to be grateful for and at this very moment, I am grateful for you," Abdul, 51, said to Hall. "For your loyal friendship, your amazing, unique talent and your dedication to everything that truly matters. I'm so proud of you. You've done something that no one's ever done before or let alone even tried -- to come back in 20 years and step back into the spotlight."
Plus: Best of basic cable and network television | Fun-filled casts for the fall | 'The X Factor' Season 3 gallery
Before and after things got touchy-feely, Abdul got in some well-placed digs at her old "American Idol" coworker Simon Cowell and Hall, too. "Now that you're working again, I hope this means you'll be moving out of my pool house," Abdul jokingly said. Hall's first show, which was also syndicated by CBS, aired from 1989 to 1994. Here's the clip:
What do you think? Are you happy to see Hall come back? Weigh in below or on MSN TV's Facebook and Twitter pages.
"The Arsenio Hall Show" airs weeknights in syndication. Check your local listings.