'Phineas and Ferb' gets the 'Star Wars' treatment
Geek alert: 'Mythbusters' hosts lend their voices in this special episode
Loads of fans are
getting their geek on at Comic-Con
this weekend. For the rest of us, there is the upcoming "Star Wars" themed "
Phineas & Ferb
" special episode. The animated stepbrothers and their friends will find themselves in a parallel universe, during "
Star Wars Episode IV: A New Hope
". Expect encounters with the major players, including Luke Skywalker, Darth Vader, Han Solo, Princess Leia, Chewbacca, C-3PO and R2-D2.
MSN TV has this exclusive image of "
Mythbusters
" hosts
Adam Savage
and
Jamie Hyneman
as members of the Empire: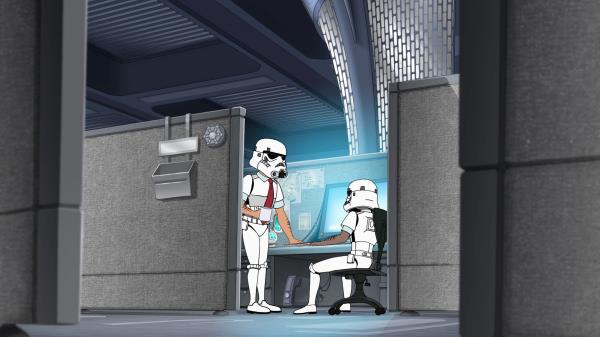 Creators and executive producers Dan Povenmire and Jeff "Swampy" Marsh expressed their excitement about adding Savage and Hyneman to the cast: "We've been wanting to do something with them for ages, because they are the living adult versions of Phineas and Ferb in the real world. We ran into them at Comic-Con last year and knew that they worked on the original 'Star Wars', so when this opportunity came up we asked if they could come voice a few characters for us. It was really cool for us; we're hoping it was cool for them."
It's definitely cool for us!
"Phineas and Ferb: Star Wars" premieres July 26 at 9PM ET/PT on Disney Channel.