Q&A: Jane Lynch of 'Hollywood Game Night'
Veteran actress on her new hosting gig, party nights, 'Glee' and more
By 
MSN TV
 Jul 10, 2013 10:34AM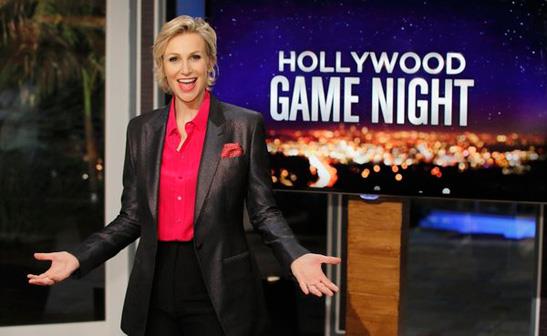 By Minh Nguyen
Special to MSN TV
Perhaps best known for her role as the not-so-nice cheerleading coach Sue Sylvester on "Glee," Emmy, Golden Globe and SAG winner Jane Lynch is one of the most talented women in Hollywood. The triple-threat actress who sings, dances and acts will be combining her talents as a host on a new celebrity game show, "Hollywood Game Night," which premieres Thursday, July 11, at 10 p.m. ET/PT on NBC.
Bing: More about Jane Lynch | 'Hollywood Game Night' | Video: Watch clips and more
MSN TV: Are you excited for" Hollywood Game Night" to premiere?
 
Jane Lynch: Yes, I am. You know, we shot them a while back like a couple of months ago. So,
I've been excited for a couple of months. It was so much fun to do. We had a blast, and everybody who was on the show came ready to play. I don't think there's anything on television like it.
Could you tell me a little bit more about it?
 
Sean Hayes is a good friend of mine, and he has game nights at his home and has for several years. They're always fun and raucous and a really great time. He got the idea He pitched it to NBC, and they bought it.
He was having dinner over at my house one night, and I said, "Well, can I host it?" He said, "Let's see." Before I knew it, I was tapped to host it. I was thrilled because I know Sean usually hosts the ones at his house. I've seen him do it. I know how it's done. I was really thrilled to step into his shoes in this show.
Who are some of the guest stars on "Hollywood Game Night?"
We got people from television and sports. It's a variety of people. The first one we shot has Amy Poehler, Jason Sudeikis, Fred Armisen, Sean Hayes, Zach Shepard and Maya Rudolph. It was insanely fun. It was a great way to kick off the filming of this thing. And everybody comes to have fun with the games.
Was there anyone that you hadn't met or someone who you were a fan of?
 
Rose Byrne -- who I'm a huge fan of, who can do no wrong in my eyes -- from "Bridesmaids" to "Damages."  She was great, and she was game. Tom Arnold was really fun. Martin Short was hilarious. Matthew Perry and Lisa Kudrow were on the same episode, but on opposite teams.
Yeah, it was really good. Patricia Heaton was another. We had so much fun with her.
What's your favorite game to play?
 
I think my favorite is called "Doo-Doo." And it's our version of "Name That Tune," where you sing a pop song and your team has to guess it by only using the lyrics "doo." So, if I were singing "Teenage Dream", it would be doo-doo-doo-doo, doo-doo-doo doo-doo, dupe-dupe-doo. That kind of a game. I love that.
That sounds like fun. And you've had a lot of hosting experience. How does this game show compare to say, hosting "SNL" or the Emmys or the Do Something Awards? 
Well, I'm truly a party host. I'm making sure everybody has a good time, chatting people up but also enforcing the rules and making sure the game is played according to the rules. So, in that way, I'm kind of like an enforcer, as well as a game show host where I explain the game. And while I am doing all of these official duties, I have to give everybody room enough to express themselves and have fun.
I kind of like to do that. I do that naturally when I throw parties. I don't necessarily engage in the social aspect of a party when I throw it. I love the hosting part -- making sure everybody knows each other -- and "Do you need a drink? What can I do to make it easier on you and make this more fun?"
So, you're not that mean?
 
I make a very charming and welcoming host.
Oh, that's great. I kind of figured that. On a "Glee" note, do you have any interesting stories that you can share?  
Yes. I wish I did. I don't know what's going to happen next season. I know that I am coming back. I found out for sure. Everything is up in the air. My character was fired, and I'm working at the 23-Hour Fitness, so it will be very interesting to see if I ever get back to McKinley. And if I do, how do I manage that? I know they kids just finished sectionals. So, they've got regionals coming up and hopefully nationals. And then of course, I wonder if the kids in New York are going to have some new additions to their group? I wonder if there will be more people showing up? I have a feeling there will be. I just don't know who they are. So, yeah, there's a lot going on that remains to be seen. But it's bursting with possibilities!
What's the best advice you ever received?
 
Don't take it, right?!
Is there any advice you can give? Or is that part of it, too? You don't give advice?
 
No. You know what? I don't give advice. If anybody gave me advice and told me how to do anything, I would have been robbed of the experience of discovering for myself. As much as I wanted somebody to swoop down and tell me how to do everything and point me in the right direction, I learned so much and had just invaluable experience scraping and clawing my own way through life. It's nice to be supported and for someone to say, "You can do it! Go for it, girl!" But, for the most part, no one gave me any advice. In fact, if someone wants to give me advice, it's worth my ear.
Plus: Strange Syfy movie titles | Best campgrounds on TV | Animal-nicknamed actors and characters
Want more TV? Follow MSN TV on Facebook and Twitter 
"Hollywood Game Night" premieres Thursday, July 11, at 10 p.m. ET/PT on NBC.