Sheryl Underwood talks 'The Talk'
Daytime host dishes new season, hot guests and life with her girls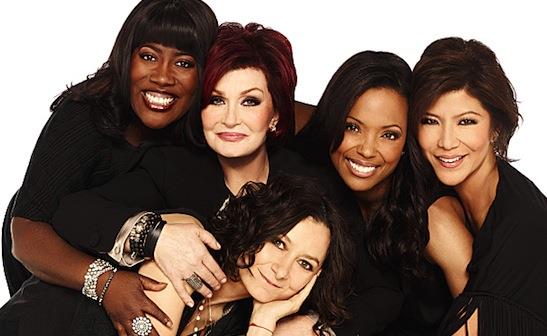 "The Talk" returns with big secrets, big guests and a new cyber-seat at the table for viewers on Monday, Sept. 9. Co-host Sheryl Underwood opened up about getting back to the daytime grind, which is clearly not a grind for her. 
Bing: More about 'The Talk' | Sheryl Underwood
As "The Talk" viewers know, Sheryl Underwood can be excitable. When MSN TV caught up with her, the comedian had lots to say about working with Julie Chen, Sara Gilbert, Sharon Osbourne and Aisha Tyler; bringing viewers into the conversation; and getting to meet guests like Queen Latifah, Simon Baker, Lisa Marie Presley, Craig Ferguson, June Shannon, Sugar Bear and Valerie Bertinelli, who are all on tap for Season 4 premiere week. Just remember one thing: Underwood is a fan, not a stalker!
More: Appreciated but under-viewed | Memorable TV high schools | Why Neil Patrick Harris is host with the most
MSN TV: "The Talk" Tell All premiere week is almost here. Have you figured out what secret you're going to reveal? 
Underwood: I have gobs of secrets, but I've already told some of them. With standup comedy, your life is an open book, so I'm more looking forward to looking across at my colleagues and going, "Mmm hmm, I knew it!"
Which of your co-hosts will drop the best secret?
From what I've been eavesdropping on, it's going to be a week of juiciness! I'm going between Mrs. O and Sara. Mrs. O is a great television personality, but she also has so much life lived. Then Sara is such a great spirit and has so much humanity. Every once in a while, you hear her say she did certain things and think, "Oh my god, when are you going to write a book?"
Tell us about the show's new component, "Everybody Talks."
I love that we're getting involved in that! Some of us go back before Twitter, the Internet and Miley's performance -- back when Madonna was crawling on the floor at the VMAs, we couldn't tweet about it! It's great to be able to interact with fans and see how quickly they can make a video and send it to us in real time to be the sixth person at the table. That's what "The Talk" is all about. Meeting great people, having great conversation, just being a respite.
I love meeting the fans. We've got 2.6 million viewers in that 25-54 rage, and they live vicariously through us. When I hugged Blake Shelton? Don't tell me every woman doesn't think he's fine! And where else are you going to hug Tom Selleck and smell all that good cologne? Where are you going to meet Neil Patrick Harris, Simon Baker, Danny De Vito, Sarah Michelle Gellar and Lisa Marie Presley? You're talking to an Elvis fanatic! Then you've got the casts of "The Millers," "Hostages" and "Elementary" and Alison Janney and Anna Farris, from "Mom," and the cast of "We are Men." I love Rebecca Romijn, but her husband Jerry [O'Connell] know he fine! And you know what? I'm going to squeeze that guy who stars in "Hawaii Five-0," Alex O'Loughlin! There's a responsibility that comes with all that.
Beyond hugging the hunks?
I'm not a stalker; I'm just a fan! (laughs) I want to be an example for all women. Whether you're in entertainment or you're a mom in Kentucky going to Wal-Mart and church or having a beer and going bowling. Everything that's happened in my life, I bet some of it has happened to you -- and you can survive it. Friendship is a good thing and a glass of Chardonnay and some salad makes everything all right.
Did you and your co-hosts do dinner or have Chardonnay hangs during your summer hiatus?
Sometimes we go out to dinner, but Julie's working on "Big Brother," Aisha's been working on "Whose Line is it, Anyway?" Sara's doing her book tour and I think Mrs. O was in London. We all keep in touch via Internet, social media, the phone. Somebody's in town? Let's grab a bite to eat! We're just good girlfriends. I would never have thought I'd be able to pick up the phone and go, "Julie, are you watching so and so?" and she'd say, "Yes, right now. Call me during the commercial!" 
What did you get into this summer? 
I've been in Toledo, OH, working on my radio show, Underwood Radio. I'm also traveling with my standup and working on a telethon proposal. I have a foundation for education and I'm trying to raise money and awareness about Historically Black Colleges and Universities. Anyone can go to an HBCU and get a quality education. It's not just for black students. We can all live the dream together, as Americans.
You also do Steve Harvey's radio show, right? You're a busy woman!
I love "The Talk" and "Steve Harvey Morning Show" for what they've taught me. Steve Harvey set the tone for what we can do, as comedians. You can have an 85-market radio show while you work on a daytime show, write books and do movies and television. I'm actually working on [a few books, right now].
"The Talk" is also showing me what I can do. It's like family. I'm learning so much from all of the ladies and I thank CBS for supporting everything we all do. I take care of my disabled sister, who live with me. I have a caregiver that helps, but I'm the primary person. I do the laundry, grocery shopping and cooking and I play with her. It's a blessing. The ladies have helped me out with everything I've needed to do this job and add more to my plate, while having a healthy lifestyle. By "healthy" I mean get good sleep at night, have fun, socialize and enjoy this life.
Rumor is you've also been dieting. Are we going to see a whole new Sheryl?


Not a whole new, but a partially new. I've been working out all summer and changing my diet. I can't go to the grocery store without people coming up to me and saying, "Aren't you on a diet? Can you eat that?" I still eat candy, potato chips and everything bad while I'm eating my salads. 
The show's new state-of-the-art kitchen is going to be tempting.
I do like to sample! And we've got these great chefs -- Cat Cora, Chef Fabio, Curtis Stone, Rocco DiSpirito, my baby Guy Fieri. I love that we utilize the kitchen. That's where most people do their talking. 
I love stuff like that. I love the segments with animals.  I love the show. I love daytime. I love the history of CBS. Who would have thought I'd get to be one of "The Price is Right" models? Who would think I'd work with the great Eric Braeden (Victor, "The Young and the Restless")? Or run lines with Christian LeBlanc (Michael)? I have no intention of leaving "The Talk." They'll have to wheel me out. I can't wait for Sept. 9!
Are you planning to record your own videos and get into "The Talk" conversation? Weigh in below or on MSN TV's Facebook and Twitter pages.

"The Talk" airs weekdays on CBS.