'The Mindy Project' Season 2 set visit
Mindy Kaling talks season premiere wedding, upcoming guest stars, robot love and more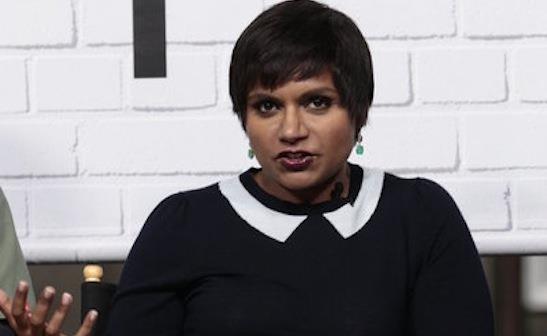 "The Mindy Project" creator and star Mindy Kaling showed MSN TV around her character's swank New York pad and lucky for us, she forgot to clean up first. Decorations revealed Mindy and Father Casey will kickoff Season 2 with a wedding, but don't worry. Mindy Lahiri will somehow find herself flailing around in the dating pool again, soon enough.
Bing: More about "The Mindy Project" | Mindy Kaling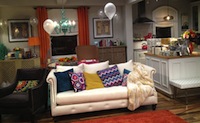 Kaling took a break from shooting Mindy's adventures in Haiti to show us around and tease "The Mindy Project" Season 2. Word is the wacky obstetrician will fare pretty well overseas, but something brings her and Casey back to Manhattan. During our visit to the Universal Studios set, "The Office" alum dropped names like Chloë Sevigny (Christina), James Franco (Dr. Paul Leotard), Adam Pally ("Happy Endings"), Bill Hader (Tom) and Kris Humphries (himself) and gave us the behind the scenes scoop on the set. Here are highlights from our tour.
Plus: Fall TV's hottest new faces | Fall TV trend: Sitcom families | Favorite clips from 'The Soup'
MSN TV: Hey, why is the place decorated for a wedding?
Kaling: Oh yeah. Uh…
And this cake says 'Mindy and Casey' on it!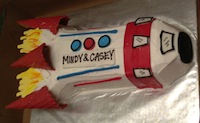 Oh really? That was bad planning. You have that 'be cool' rule, right? Pinky swear? You won't tell anyone? (laughs) In the premiere, Mindy and Casey come back. We won't explain how that happens, but there is a wedding. Because it's impromptu, they get a cake from the exotic cake store, [which] only has a cake that looks like a penis or a cake that looks like a torah. She goes, "Gross, I'll take the penis cake." One of the more offensive scenes we've ever shot!
[Note: There is no penis cake in the premiere, but the rocket wedding cake does have a very interesting shape.]
Well, this isn't a bat mitzvah party, so a penis makes more sense.
She does love penises.
She must. Mindy's bed has seen a lot of action!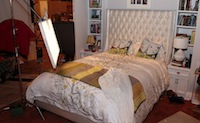 Oh yeah! This bed has seen Seth Rogan (Sam), Anders Holm, Mark Duplass (Brendan), James Franco. It's a veritable stopping place for comedy actors. Mindy's dated more guys this past season that I've ever met in my life, and we have some funny guys coming up, too -- Glenn Howerton ("It's Always Sunny in Philadelphia"), Ben Feldmen ("Mad Men") and some other secret people we're hoping to get. 
[Timothy Olyphant has been tapped to play one of Mindy's new love interests.]
More guys? Does that mean Mindy and Casey won't actually get married?
There's trying to get married and actually getting married, which is a pretty hard thing to do. I wanted to see Mindy single and dating for a while. She's been in so many long relationships. It's going to be different this year.
When viewers first met Mindy, she was a dating disaster. How will she fare this year?
I miss Mindy's bad behavior. I've been longing for some good, old-fashioned terrible behavior, so we're going to see that. Seeing Mindy on dates was fun, and seeing a person fail at romance in funny ways was enjoyable.
Can we except Mindy to share more moments with Danny?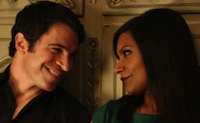 The thing about Chris [Messina (Danny)] is that if you're a heterosexual woman in a scene with him, people are like, "Woe, what's going to happen with them?" He's just smoldering. We noticed that even in scenes where we're talking about medical stuff, people say, "That was a great moment!" Besides having so much fun together, personally, we realized a lot of people loved that about last season. There was that moment at the end of the finale where it was like, "Are they going to kiss?" We pick that up in the premiere in a way that won't disappoint.
Are there any other guest stars on tap that you can talk about?
Anders, Hader and Franco are all obviously coming back. Chloe Sevigny came back to shoot with us as Danny's ex-wife. Last year we didn't get a chance to meet Ed Weeks's [on screen] father. [He's going to be] a hilarious character very early in the season.
What I thought was kind of fun -- and got way more press than virtually anyone else -- was when Kris Humphries was playing himself. He has scenes with Chris Messina, and it's a really funny part.
What can we expect from Adam Pally?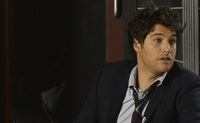 I went to Dartmouth College, and until now, I have not been able to satirize my favorite Dartmouth character, which is a well-educated frat guy who is both congenial and ultra into his frat. We have been huge fans of [Pally] for a long time. He has a fun, bro' energy, but also exudes warmth. That's rare, and we just love that kind of guy.
This apartment is freaking huge. How does Mindy afford such a sweet pad in New York?
She has a high delivery rate, I guess? We did the math and in Manhattan, her one bedroom apartment would go for $2.5 million. This closet would be the size of a bedroom.
Word is you drove around Los Angeles throwing set pieces into your Mini Cooper to decorate the apartment. Does that mean her place reflects your taste?
It mostly speaks to the character. The apartment is very eclectic and colorful in a way I'm more adverse to. I like things to be more muted, because I get bored. It's very young, too, if you look at the colors. I'm 34 and to me, this has the feel of someone younger or more playful than Mindy Kaling.
Which piece would be Mindy Lahiri's favorite?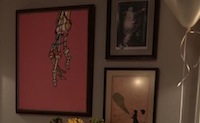 I like the Tron hand on the pink background. It's just a drawing, but I could look at it for hours. In my mind, it captures the moment a robot realizes it can feel love. That seems like a very Mindy thing. I love that so much I actually have it in my house.
Are there any other overlaps between your homes?
All the pictures here are of me, friends from college, my writing partner from before I moved to LA and my family. You'll even see little surprises here and there, like I think there's a picture of me and Tommy Dewey, who played Mindy's ex-boyfriend [Josh]. Because I largely started trying to hire my friends, there was a time when there were people in the photos who worked on the show. We had to remove the pictures or fire them!
How involved are you in creating Mindy's wardrobe?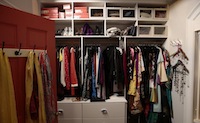 Sal [Pérez, Jr., costume designer] and I work very closely together. I obviously don't have time to go to all the New York Fashion Week stuff, but I watch the runway shows and send images to Sal. Mindy has a very preppy, layered look - very hip-hop. She loves brands. We think of her as a little girl dressed up for work. Whenever I'm worried it's too much, I go, "Maybe too much is more fun to look at!"
Remember how Carrie Bradshaw would wear an evening gown to brunch? I always thought there must have been a moment when she was like, "This is what someone would wear to an inauguration." But she's theatrical, and TV is supposed to be theatrical.
Before we leave, I have to ask: Did you really cut your hair for the show?
This is a wig. I love having the short hair. It's so fun, but my writing staff largely hates it. I was told by one of the writers, Jeremy Bronson, that if I cut my hair off the show would tank. But I think it's fun, and chopping your hair off is something every woman fantasizes about doing. My actual hair, though, is actually [still long], so I get to have it both ways.
Want more TV? Follow MSN TV on Facebook and Twitter 

"The Mindy Project" returns Tuesday, Sept. 17, at 9:30 p.m. ET/PT on Fox. The premiere is also already streaming on FOX.com, FOX On Demand, FOX NOW and Hulu.com.