'The Talk' Season 4 promos: Everybody talks
CBS co-hosts invite viewers into the conversation, share big secrets and get cooking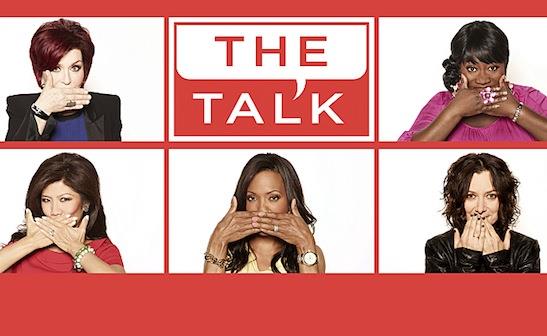 "The Talk" Season 4 kicks off Monday, Sept. 9, with new changes and big reveals. In new "The Talk" promos, the hosts invite viewers to join the conversation this season via instant video messages and also promise to divulge personal secrets throughout premiere week. Plus, "The Talk" season 4 gets cooking with a new kitchen. 
Bing: More about "The Talk" | Watch more clips and episodes of "The Talk"
Are you ready for your close-up? "The Talk" co-hosts Julie Chen, Sara Gilbert, Sharon Osbourne, Aisha Tyler and Sheryl Underwood are inviting fans to the table for season four with "Everybody Talks!" During the talk show's daily chat sessions, viewers at home can join the conversation by sending in their own videos, in real time, to be played live. Viewers will also see their tweets and Facebook comments scroll on-air in response to the live conversation.
"The Talk" co-hosts are also promising to get personal during premiere week. Chen, Gilbert, Osbourne, Tyler and Underwood took it all off for "The Talk" Season 3 premiere. For season four, they're baring all again. Instead of ditching their makeup and weaves for a day, however, the co-hosts will each reveal intimate secrets they have never discussed publicly -- or with each other. Promising at least one confession per episode, nothing's off limits during premiere week, according to the promo.
Plus: International remakes for fall TV | Best of 'Real Housewives of Orange County' | 'The '70s Show': Where are they now? 

But wait, there's more! Word is "The Talk" has added a cooking island to its set and plans to host daily cooking segments with the likes of Curtis Stone, Rick Bayless, Anne Burrell and Fabio Viviani.

Be wary, however, of "The Talk" season 4 guest schedules featuring the likes of Angie Harmon ("Rizzoli & Isles"), Danny DeVito ("It's Always Sunny in Philadelphia"), Neil Patrick Harris (The Emmys, "How I Met Your Mother"), Alex O'Loughlin ("Hawaii Five-0") and more. Those actors may indeed appear during premiere month, but MSN TV has learned the guest list is still in the works and has already seen changes. 
The official list of guests kicking off "The Talk" season 4 will be announced after Labor Day weekend, on Tuesday, Sept 3. Stay tuned. 
Are you planning to record your own videos and get into "The Talk" conversation? Weigh in below or on MSN TV's Facebook and Twitter pages.

The season four premiere of "The Talk" airs Monday, Sept. 9, at 2 p.m. ET/1 p.m. PT on CBS.